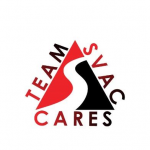 SVAC is Now Open!
You have waited for us, now we are waiting for you!
Important Notice:
Please wear a mask.
Masks are required on premises while off of the gym floor or out of the studios.
Remove masks only during workout sessions.
Lounge requires mask usage unless you are eating or drinking.
Observe social distancing at all times.
Don't wait in line, get your membership now! It's as easy as 1, 2, 3 🙂
Click Here and select "Sign Up"
Book your workout time via the Gym Master App or the Member Portal.
Come to the Club just slightly ahead of your appointment
We will give you a keyfob and you can start your workout!
Our NEW Gym Master App is available. Search Gym Master Application and look for the blue "G" icon.
Gym Floor workout appointments for 1 hour and 15 minutes are available beginning June 12th.
Classes begin on June 15th.
Locker room access is limited so travel light your first few visits.
See Club Hours for our opening weekend adjusted hours.
Our new COVID-19 Reopening Guidelines can be downloaded here.
Bring your water bottle, indoor gym shoes and your best smile! We are excited to see you!