SVAC's 2022 Fitness Gift Guide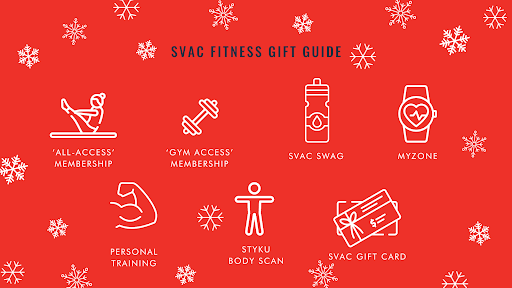 What's better than a solid workout at your favorite gym? Buying the perfect gift for your fitness loving friends and fam immediately before or after said solid workout!
Is your bestie a total gym fanatic, or has your cousin been joining you for a weekly yoga class? SVAC has a gift for every fitness journey. Whether you want to wrap up something fun to put under the tree, gift a new class experience, or both, SVAC has all of your gift giving bases covered.
Need help deciding which would be the coolest gift? TBH, we think they're all fantastic options for the active person in your life. We recommend, however, that you consider the recipient's specific interests and how they might use their gift, and from there, the choice will be obvious!
SVAC'S 2022 FITNESS GIFT GUIDE:
3 month 'All-Access' Membership
3 month 'Gym Access' Membership
SVAC Swag
MyZone Fitness Tracker
Personal Training Package
Styku Body Scan
SVAC Gift Card – ​​See front desk for details
CHOOSE YOUR FAVORITE GIFT COMBO:
A Three-Month "All Access" Membership
This is the ultimate for a person who likes having options. Gym floor access, a wide variety of unlimited fitness classes including Pilates, Yoga, Spin, Boxing, and more, fitness tracking, luxury amenities — you name it, it's all included. It's the perfect gift for fitness fanatics who deserve VIP-level access.  They can round out their fitness routines and try out some of our amazing new fitness classes.
We recommend pairing this with an Under Armour backpack to transport all of their gear!
A Three-Month "Gym Access" Membership
Know someone who just loves to hit all the machines? Maybe your sibling, who's perfectly content with a morning cycle and weight-training combo? This is a wonderful gift for those who enjoy that classic gym ambiance as they work on their fitness goals. SVAC has plenty of equipment available, so there's no waiting or lineups.
We recommend pairing this with a SVAC shaker bottle so they can get those nutrients in!
A Personal Training Package
Your spouse has been talking about getting a personal trainer for ages and you know they'd love the one-on-one sessions. Now's your chance to gift the experience of having a dedicated pro all to themselves. SVAC's personal trainers are motivation machines! Acting as your accountability partner, they help evaluate fitness goals, offer educated advice, and use advanced technology to track your progress.
We recommend pairing this with an SVAC gift card as a "treat yourself" bonus, which is good for anything at SVAC, including swag.
Styku Body Scans
Talk about an accurate before and after! Styku 3D body scans provide exact measurements of your body shape and composition. Receive far more information than simply stepping on a weight scale. Get an incredible visual of your progress with a Styku body scanning session including a digital copy of a precise 3D scan of your body, hundreds of statistics and measurements, a basal metabolic rate estimation, and a free personal trainer consultation (booked separately) to help you set your goals. 
We recommend pairing this with a three-month Gym Access membership to see amazing progress updates! 
A Myzone Fitness Tracker
For someone who gives it their all at the gym but has no way to measure it, this wearable innovative heart rate tech is a fitness guardian angel. Not only will they see super accurate, real time stats on heart rate, calories burned, and effort during their workout, they can make it an essential part of their fitness routine with zone levels, friend challenges, activity logs, and more through the Myzone app. Ideal for any competitive, type A-er on your list.
We recommend pairing this with a light-up toque, in keeping with the tech theme!
SVAC Swag
Our gym members love their accessories! And who can blame them? At this time of year, they make killer stocking stuffers for any fitness buff. A few things to get your hot little hands on before they sell out: Under Armour backpacks and duffle bags, shakers and water bottles, light-up toques, reusable straws, and of course, the quintessential fanny pack.
We recommend pairing any one of these items with a Myzone Fitness Tracker to keep your loved one geared up!
SVAC Gift Card
This is a gift meant for the DIYer-at-heart. You know the gym is their home away from home, and you want to give them all the power to choose what fits their schedule best. With our $50 and $100 options, your giftee can use it on practically anything at SVAC. Be it a month of All Access, an armful of swag, or a couple of new classes that peak their interest.
We recommend pairing this with a Buff neck warmer for the chilly weather.
HAPPY HOLIDAYS!
We wish everyone happy hunting as the holiday shopping ramps up and we can't wait to see everyone crushing their fitness goals throughout the season.