all classes
We have classes for all fitness levels. It's All Here at SVAC.
Switch it, swap it, & most of all keep having fun
Results Driven
Designed, developed and presented by our own instructors, these high intensity, high energy, interval workouts will take you further on your fitness journey. No cookie cutter classes here!
Exciting classes
Evolution, Yoga Tune Up, Vinyasa Flow, Pilates with Attitude, Strength & TRX, Pound, Spin, Step & Weights, HIIT & MORE!!
INCLUSIVE
Our classes are designed to be suitable for ALL fitness levels with top-notch instruction that is second to none. Private sessions are available for special interest groups and teams. Try a class today!
in studio, online and outdoor classes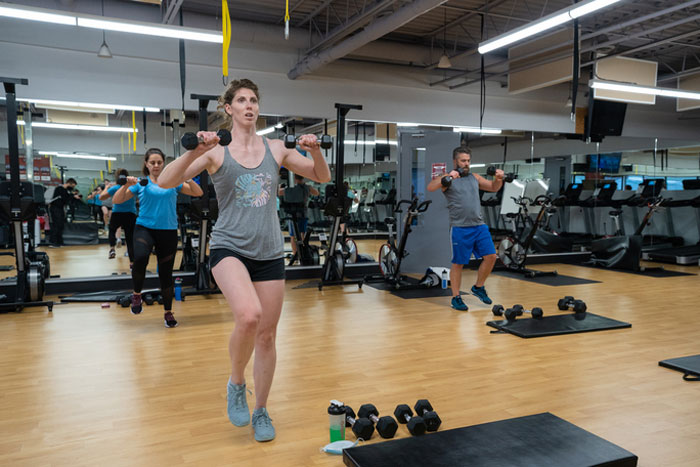 20-20-20
Join your certified leader for the trifecta of fitness fun with 20 minutes of cardio, 20 minutes of strength training, and 20 minutes of stretching. Get your heart rate pumping, tone your entire body, and reduce muscle soreness with a solid stretching routine – everything you need, all in one workout.  
Suitable for all fitness levels. Available In Studio, Online and Outdoors.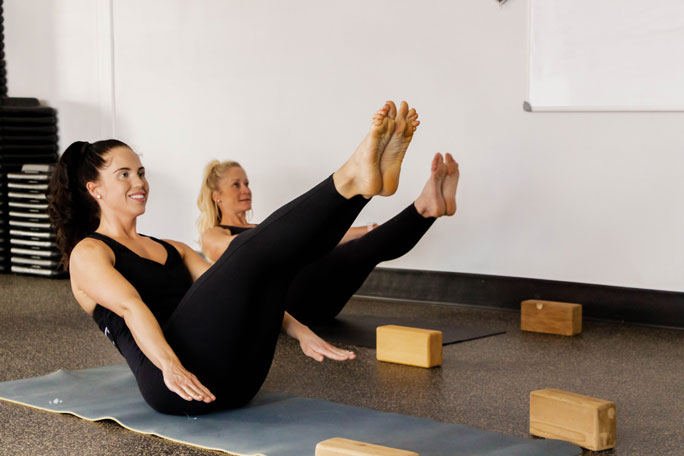 ABS BLAST!
Rock your core, blast your center and feel the abdominals, obliques and multifidus (low back muscles) strengthen with your dynamic certified leader. We integrate functional stability and core crushers with strength to have you BLAST the core.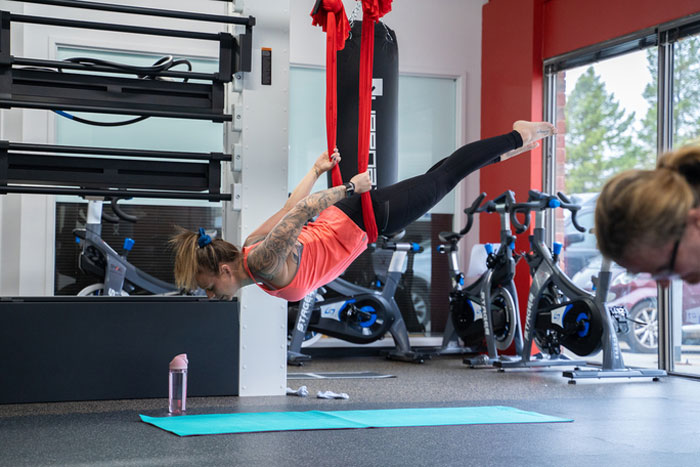 Aerial Yoga
Take flight with this out-of-the-box, off-the-ground yoga practice in the QueenAx Suspension Studio. Your aerial certified yoga instructor will safely guide you through this Instagram-worthy program to stretch, strengthen, and relieve your muscles. 
Please bring a yoga mat from home – we do not currently loan mats. Available In Studio.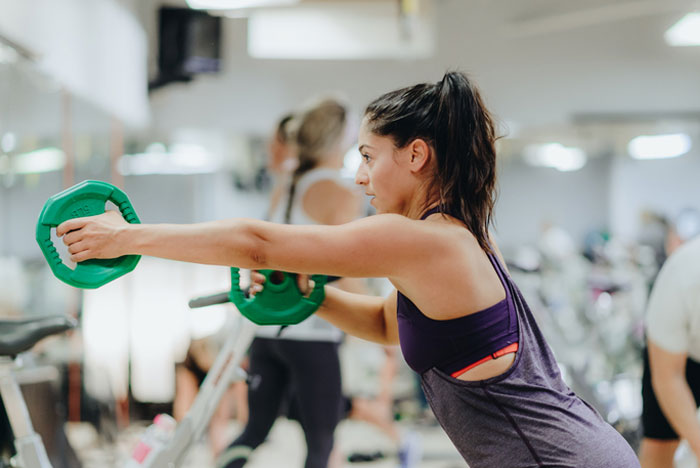 Barre
Inspired by pilates and ballet, this low-impact, muscle-sculpting class brings the fun as we move to the beat and strengthen our bodies. Using hand weights, resistance bands, bender balls, and more, we focus on core strength and isometric holds for a full-body workout. Available online and in studio. Don't have this equipment at home? No worries! Use what you have, such as soup cans, milk cartons filled with water, or anything else that helps you to feel the burn. Please feel free to stop by the club and pick up an SVAC mini band. 
Available In Studio, Online and Outdoors.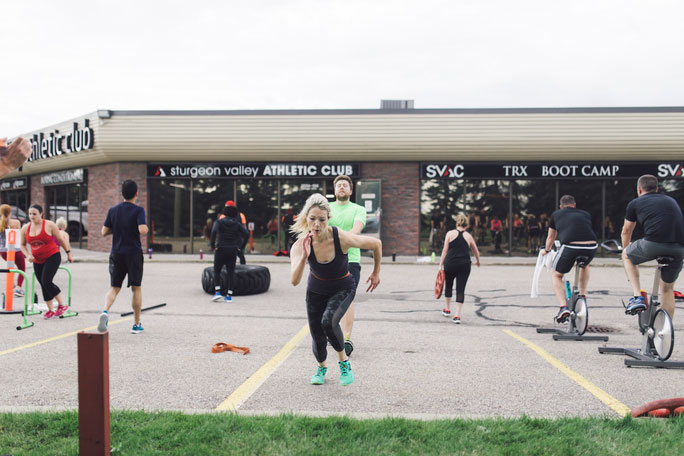 BOOTCAMP
Be prepared to work with your body weight. Take your fitness to the next level with a full body bootcamp, led by certified instructors that will challenge you, excite you, and leave you feeling energized! This full body favourite is also a part of our Field Trip Program, taking your workout throughout St. Albert and Edmonton. 
Please bring your own yoga mat from home, a water bottle, and dress for the outdoors. We recommend checking your email one hour before class as we send updates regarding potential cancellations due to inclement weather. Available In Studio, Online and Outdoors.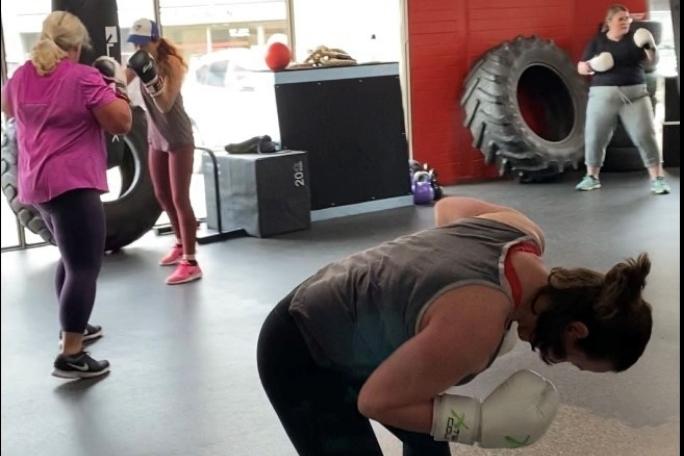 BOXING BURN AND BEATS
A fun energetic class, where you will kick, punch and knee to the beat of the music. This class will incorporate speed, agility, and endurance. Utilizing the Queenax studio and its functional training systems with boxing. All fitness levels are welcome, and boxing gloves are available for use. Bring your own wrist wraps or purchase them at Fitness Depot or Canadian Tire.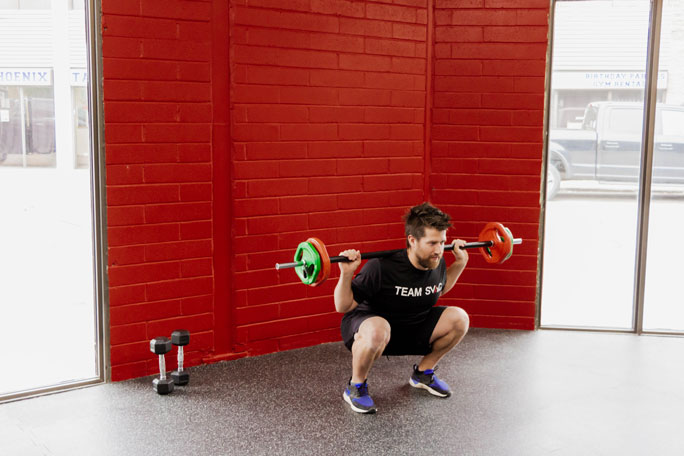 Chisel'd
Chisel'd is a strength endurance class using barbells and dumbbells. The instructor will take you through choreographed movements to the music focusing on all areas of the body. Each song dedicated to one muscle group to really feel the burn!
Available In Studio.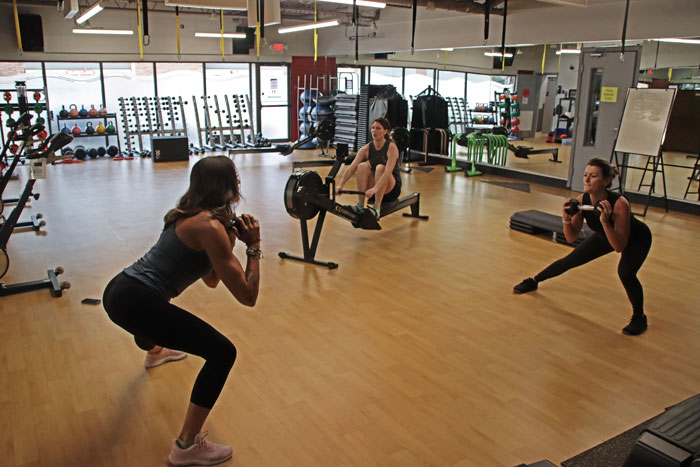 EVOLUTION
Are you ready to evolve? Have we got the class for you. With high energy and high intensity intervals, circuits, and AMRAPS each class is different, providing the variety you need to keep fitness fun and functional. We use incline treadmills, Keiser bikes, rowers, dumbbells, kettlebells, and more to ensure you get the most out of each and every workout. 
Work towards your goals and improve your overall fitness in a program that compliments all bodies. All fitness levels are welcome. Available In Studio.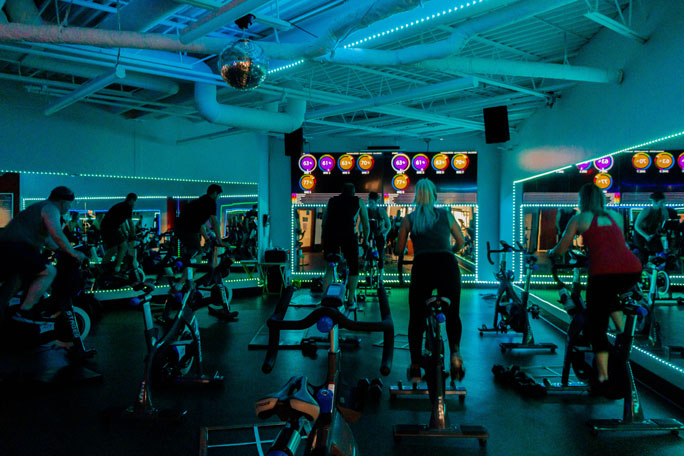 GEARS
Ready to get into the grind with your muscles and cardio as you ignite your energy in our spin studio with strength and agility equipment like dumbells and penalty boxes. Be prepared for Spin, Strength, and more!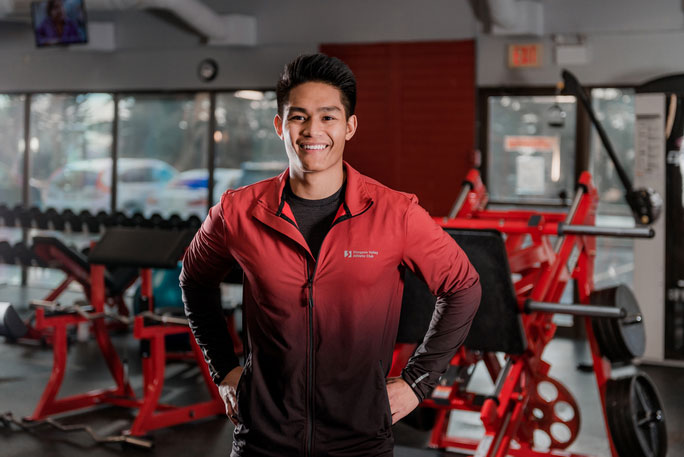 Gym 101
The introductory (or re-introductory) class we all need. Whether you're new to the club, have taken time off due to the pandemic, or are just looking for a refresher, this class will help you learn more about the equipment on the gym floor and give you the knowledge you need to crush your fitness goals. Certified Personal Trainers will guide you through the workout, providing you with any required modifications to ensure the workout is suited for you. 
All fitness levels are welcome. Available on the Gym Floor.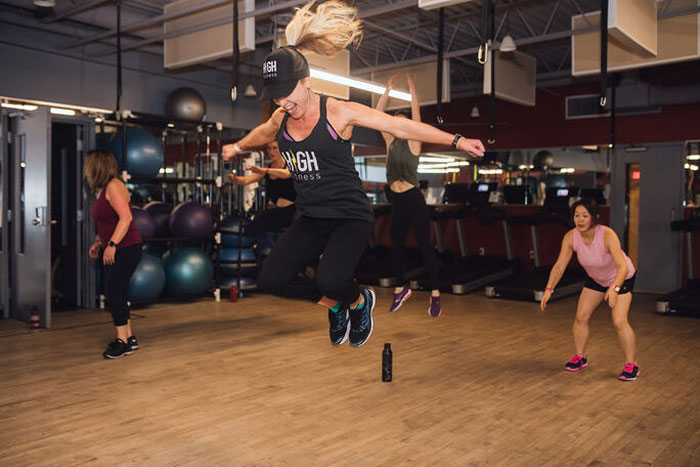 HIGH Fitness
Ready for some high fun with High Fitness? In this class you'll get strong, simple, easy-to-follow choreography, as well as plyometric interval training moves that help sculpt you from top to bottom, all to the beat of music that you KNOW and LOVE. 
Available In Studio and Online.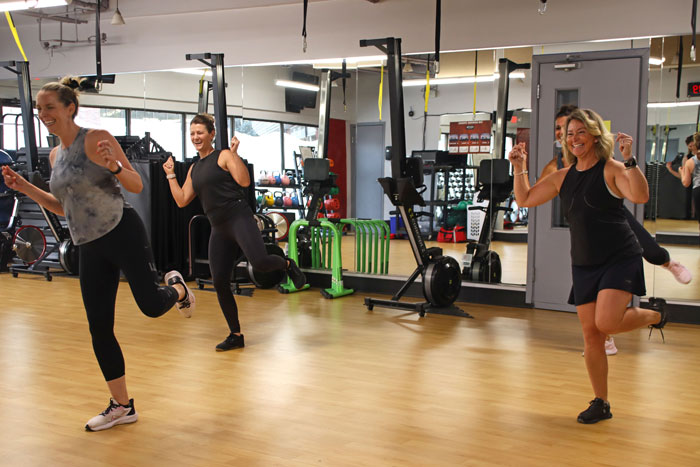 High Low
All the fun and fitness of HIGH without the impact. Same great music and energy in your home from SVAC. Watch for an email one hour before class to advise if the weather is inclement and class is cancelled.
Available In Studio and Online.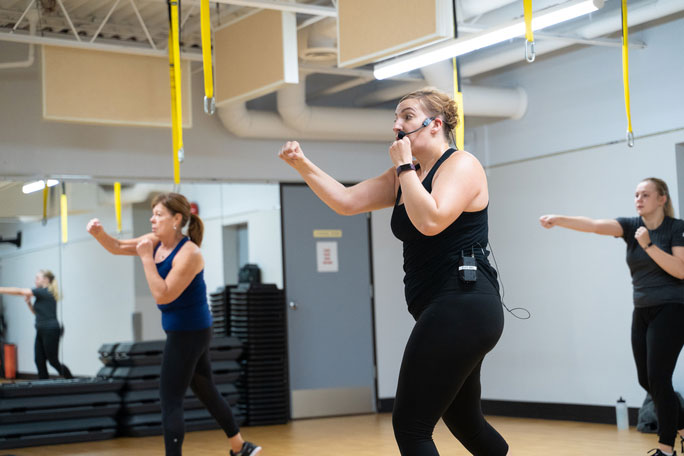 HIIT and Core
This conditioning combo features high intensity interval training, coupled with core strengthening to get your heart rate up and target your muscles. Training your core is vital for supporting the health of your body as it supports your posture and improves mobility. 
Available In Studio and Online.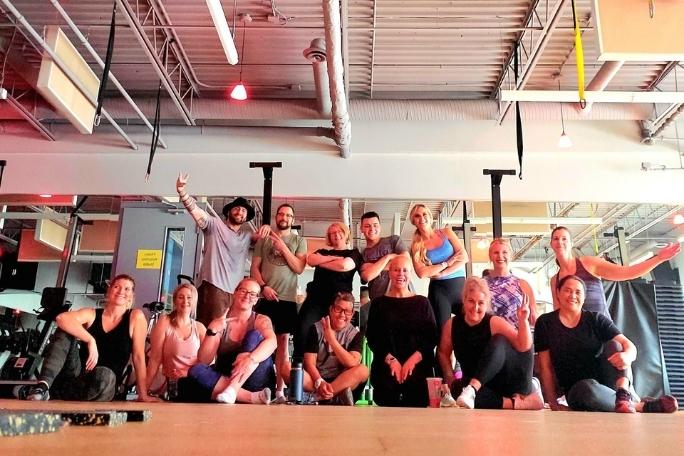 Hip Hop Grooves
Join Lukas from 3rd Street Beats in a Hip Hop inspired drop-in class that will have you in an inclusive welcoming environment where you use your mind for the moves and choreography with the joy of dance.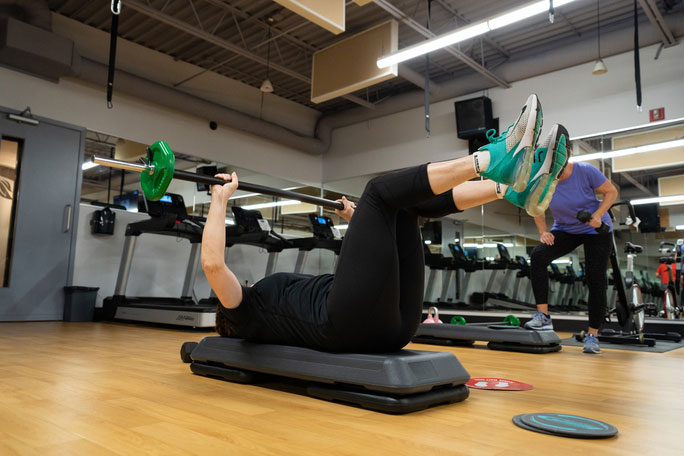 LIFT
Sweat to the beat of your favourite music as you perform a choreographed program to challenge your fitness. Increase your strength, improve your cardio, and energize your body with LIFT.
All fitness levels are welcome. Available In Studio and Online.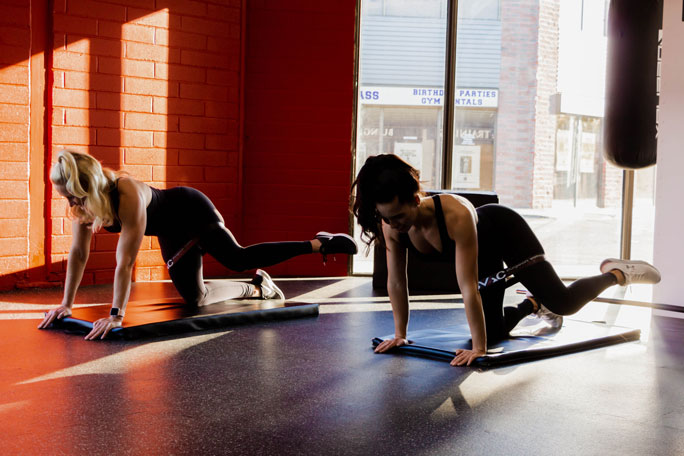 Lower Body Burn
Time to work on your strength in your lower body. We are pleased to have Certified Personal Trainers help you learn all the best exercises for your lower booty, oops we mean body! Build and Sculpt with Strength Training.
Available In Studio.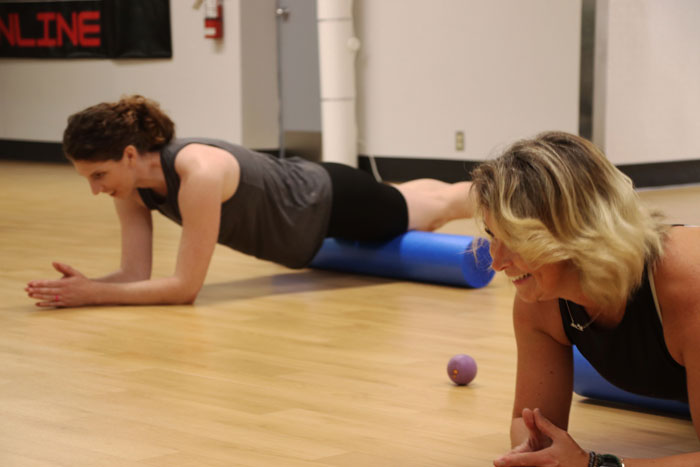 Mobility Stretch and Fascia Release
You've worked hard, your muscles are sore and your body is tired. Join us for this low-intensity class to increase your range of motion and relieve tight muscles with foam rolling, a type of self-myofascial release (SMR). SMR is a technical term for releasing tight muscles, connective tissue (fascia), and trigger points (sensitive points on the muscles) with self-massage. Foam rollers can be provided for use, however please bring your own yoga mat from home. 
Available In Studio and Online.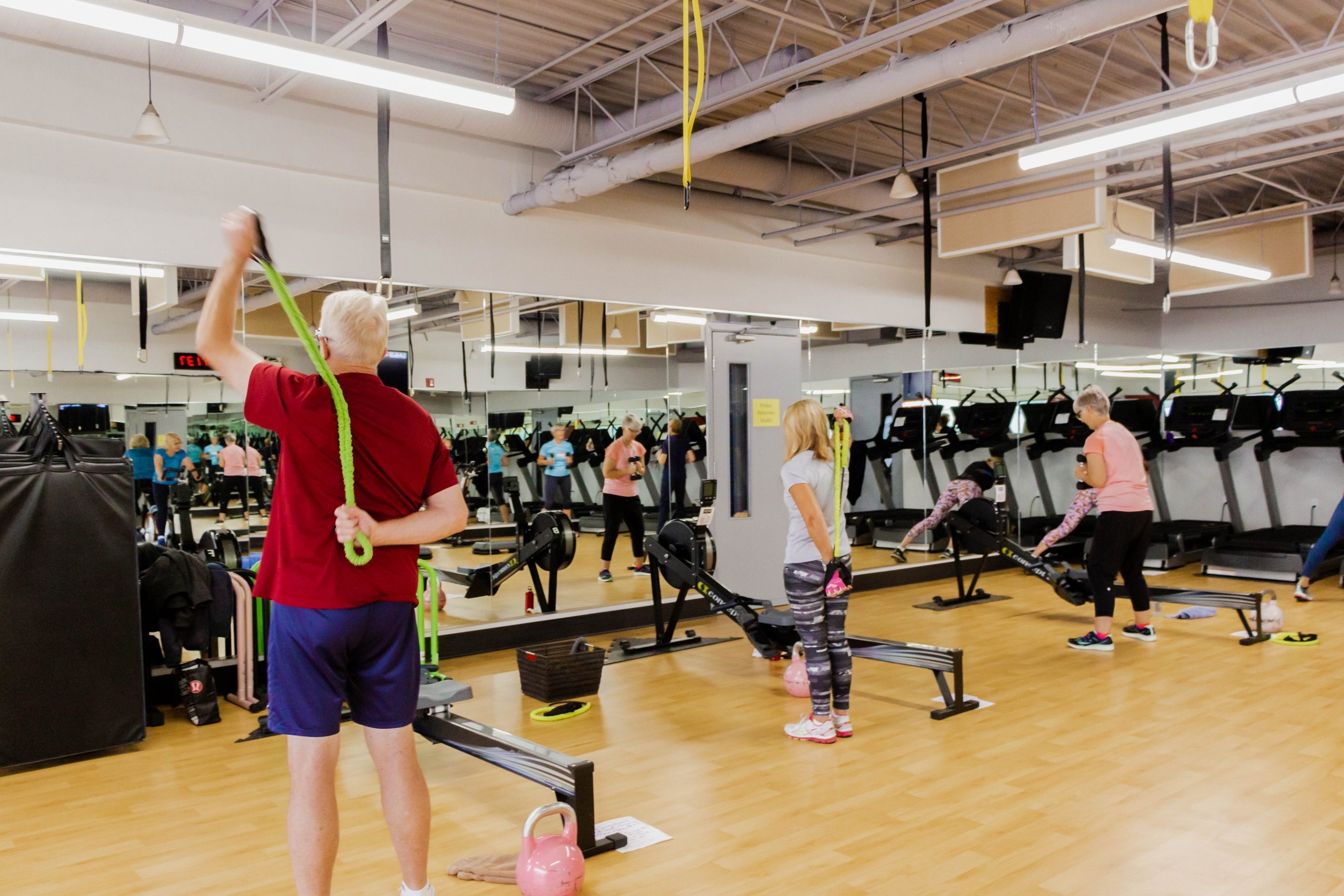 Move it Low
This gently-paced, low-impact workout is suitable for all ages and fitness levels. Follow your certified leader as they guide you through this fun-filled class with comfortable to follow exercises using body weight or light weights. 
Available In Studio and Online.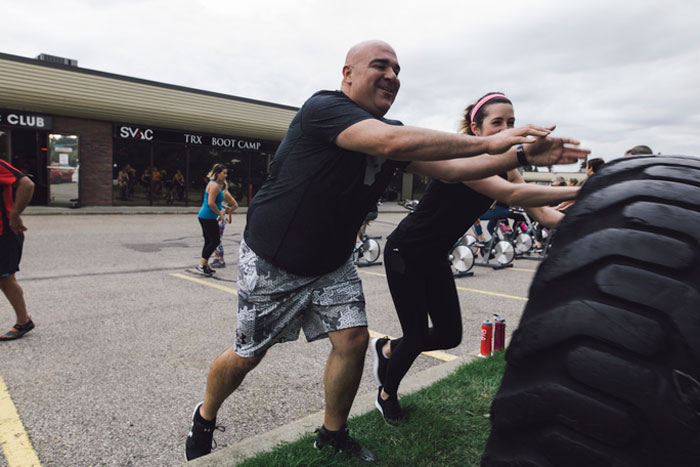 Obstacle Training
Whether you're interested in obstacle races like Spartans, Warriors, or Tough Mudder or you're just looking for a fun challenge, this is the functional training playground for you. Our Obstacle Specialists will help you move through the training course, using everything from grip strength to rolling. 
All fitness levels are welcome. Available In Studio.
Pilates Barre Fusion
Bring your mat and deepen your core connection, body awareness, and control as we move to the music, using ballet, pilates, and yoga inspired moves.This is a low impact (no jumping), full body toning workout with lots of modifications available. The focus is on developing long, lean muscles and working our core and booty!
Available In Studio and Online.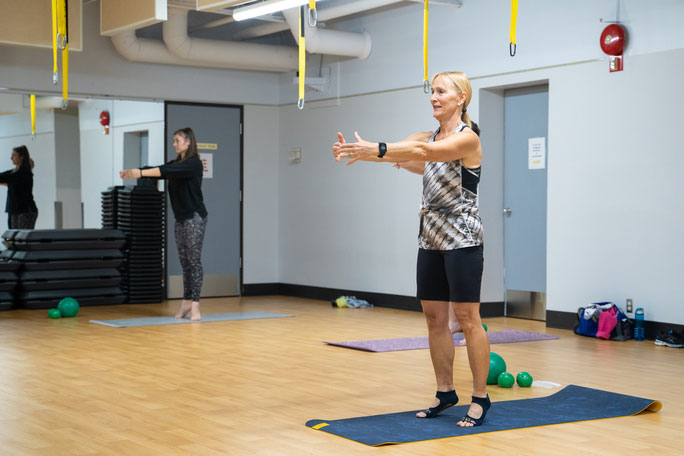 Pilates Mat Flow
Using breath work to flow through exercises, inspired by ballet, pilates, and yoga, we will connect with our body, core, and control. Tone your entire body in this low impact class. Please bring a yoga mat from home – we do not currently loan mats. 
Available In Studio and Online.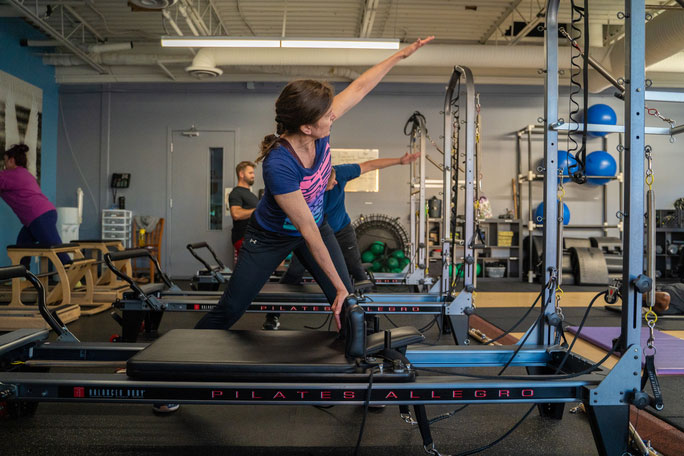 Pilates Reformer
The Pilates Reformer is a machine specially designed to allow the user to perform a wide variety of pilates exercises. Your certified and expert pilates leaders will guide and correct form as you make a deeper core connection with your body. Classes are small-group and there is semi-private and private training available. 
Available In Studio.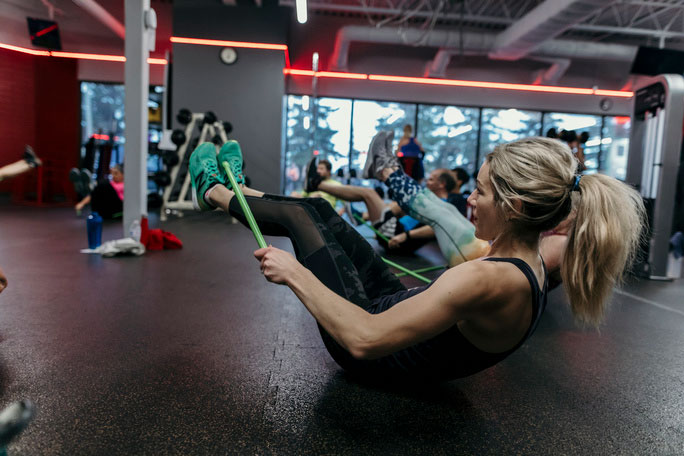 POUND & POUR
Channel your inner rockstar with this full-body cardio-jam session inspired by the infectious, energizing, and sweat-dripping fun of playing the drums. Choreography movement and having a dance party like Cardio session All Fitness levels welcome, Please bring a mat. Friday night classes are welcome to stay after class for customer appreciation beverages and small snacks!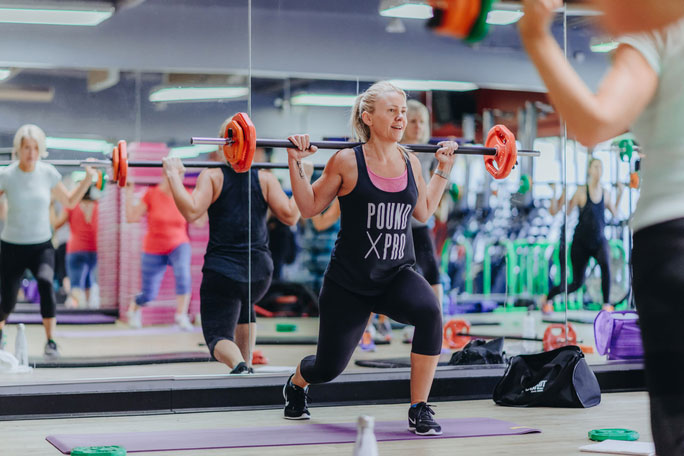 Pound to Lift
The ultimate conditioning combo to challenge your cardio, strengthen your muscles, and, of course, rock out to some great music! The first half of the class will feature our signature Pound class, channelling your inner rockstar and the second half of the class is a muscle madness LIFT workout with an upper body focus, ensuring a well-balanced, full body workout. 
Available In Studio, Online and Outdoors.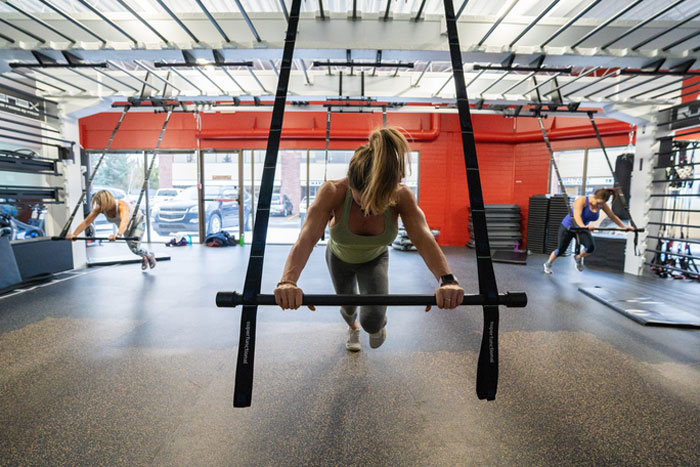 QueenAx STRENGTH
Like nothing you've ever done before, our state-of-the-art QueenAx suspension tools will challenge your body with a strength-based program that puts the fun into FUNctional training. Swing into a stronger you with the guidance of your certified instructor. Let's build strength together. 
Available In Studio.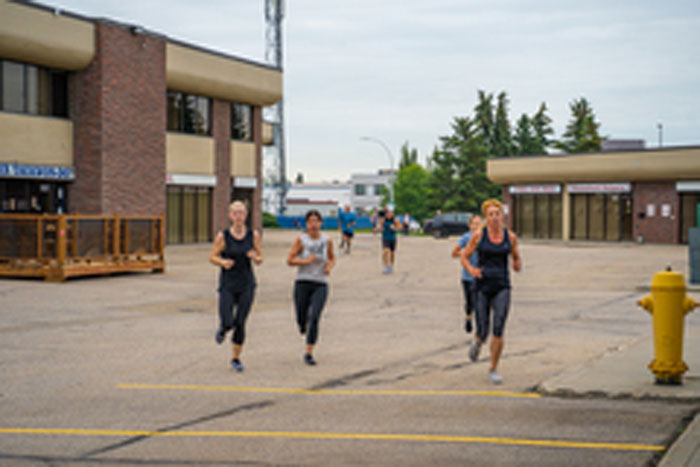 RUN CLUB
Join Stacey and a crew to explore the trails and curbs of St. Albert. Bring water, mosquito spray, and sunscreen. Always on, unless -35! We are Canadians eh? We can run in any weather. 
ALL FITNESS LEVELS WELCOME. As this will take place outdoors, we recommend dressing in layers. Watch for an email one hour before class to advise if the weather is inclement and class is cancelled. Available Outdoors.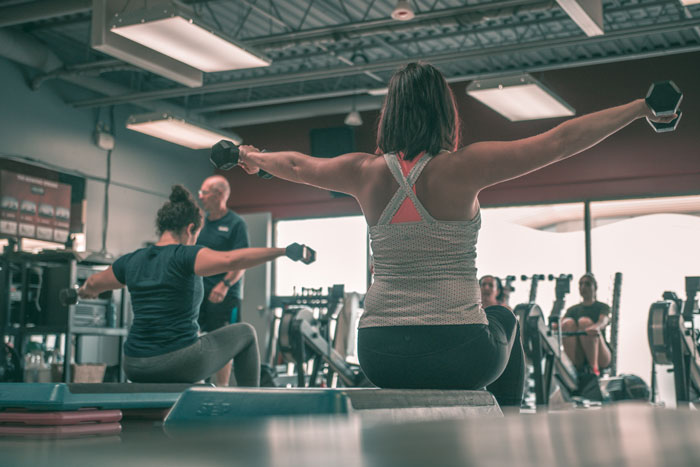 Sculpt 360
Our full body, 360 workout targets all the muscles you know you have and some you maybe even didn't know. This class will keep you lifting, reaching, and lunging from beginning to end. All fitness levels are welcome. Expect both cardio and strength training.
Available In Studio, Online and Outdoors.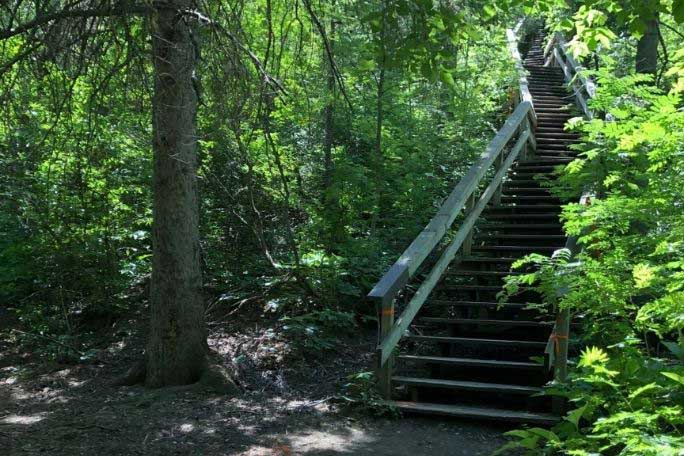 Stairs
Step up your fitness with your SVAC community! We meet weekly at Griesbach Stairs (2696 Sir Arthur Currie Way, Edmonton) and sometimes switch it up on long weekends to keep your fitness fun and fresh! Start with warm ups, exercises, and stretches and then complete as many sets of stairs as you can, whether that's 2 or 20. Please remember to bring water and check your email two hours before class as we will advise on inclement weather and potential class cancellations. 
Available Outdoors.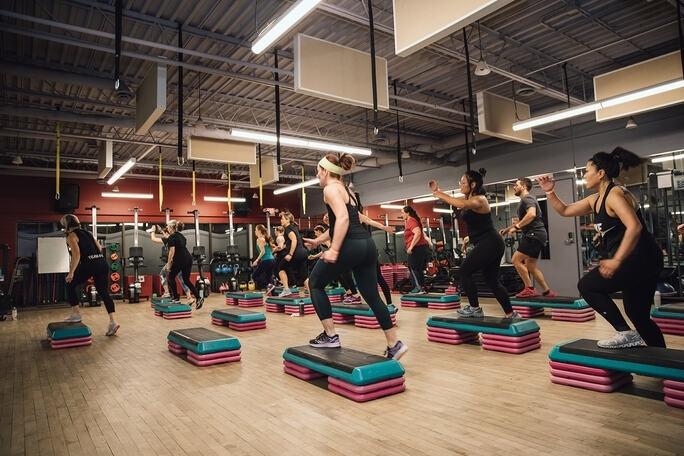 Step and weights
Get ready to move to the beat of the music and lift some iron. Join this dynamic workout, knowing it will put a smile and some glisten on your face. Arrive 5 min before. Bring a full water bottle.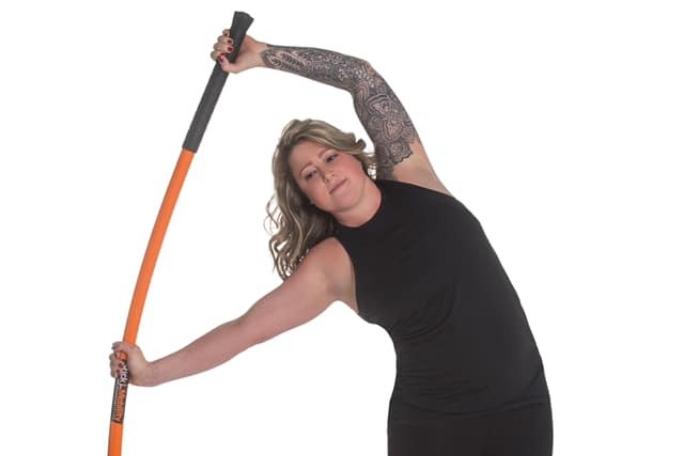 Stick Mobility
SVAC is proud to have Canada's only Level 2 Stick Mobility Leader, Clare Newman. Join this guru for MOBILITY + STABILITY + STRENGTH. Stick Mobility combines joint mobilization, strength training, and deep fascial stretching to increase athletic performance, reduce the risk of injury, and speed recovery. Bring your mat.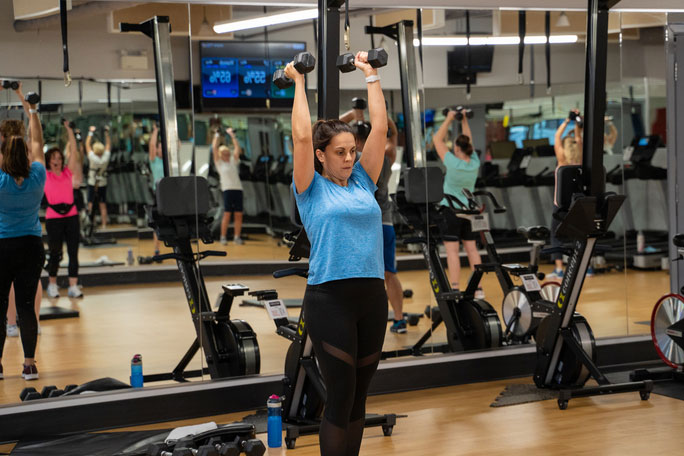 Strength FIIT
Join SVAC in a strength and cardio program designed for all fitness levels. Find your inner strength with Functional Intentional Interval Training (FIIT).
Available In Studio, Online and Outdoors.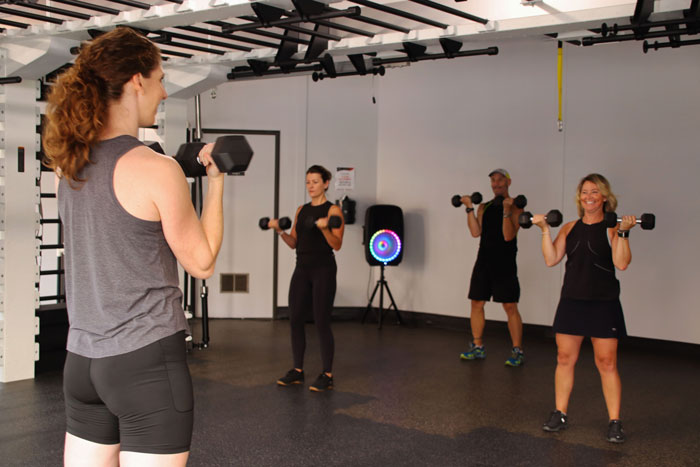 TABATA
In this high-performance fitness program, you will work for 20 seconds, rest for 10 seconds, and repeat this 8 times per muscle group. Be prepared to have some high intensity fitness fun!
Available In Studio, Online and Outdoors.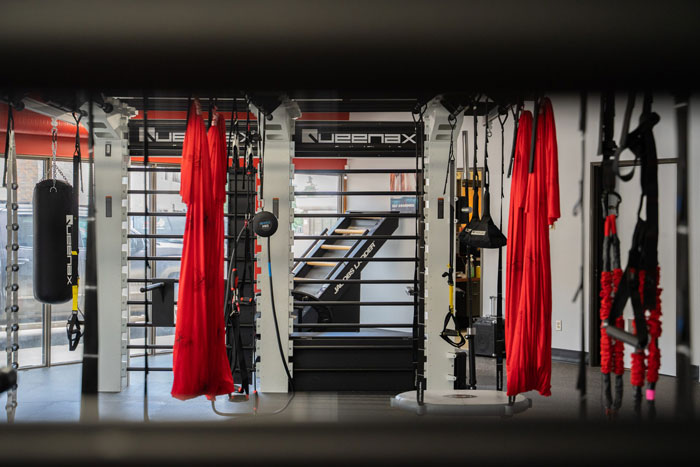 TEAM Training
We offer group fitness formats and sport-specific training to help your team work more cohesively and excel at your sport. These workouts are customized to your team or group.
Available In Studio, Online and Outdoors.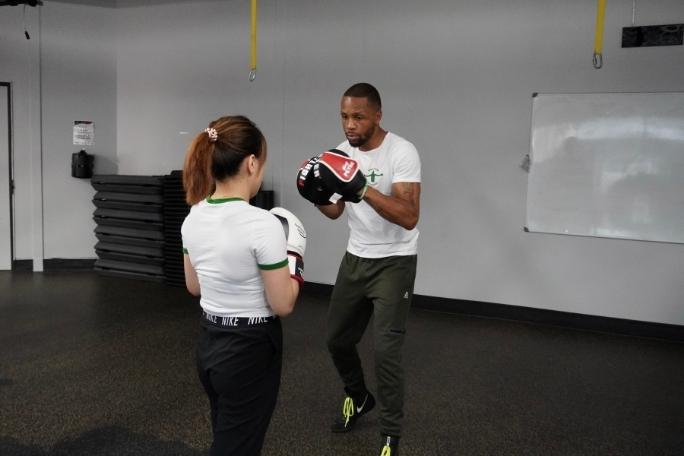 Throwin Hands
Fun and fast-paced boxing class. The goal is to get in a good sweat and release some tension while getting the feet moving and possibly learning a little self-defence in the process.
Participants will get to learn the techniques of traditional boxing and apply them in combinations with varying movements designed to get the heart pumping!
This class is guaranteed to have members leaving each session with a greater sense of confidence in their physical capabilities as well as their mental resilience from the consistent challenge that is present every day that they are part of that session!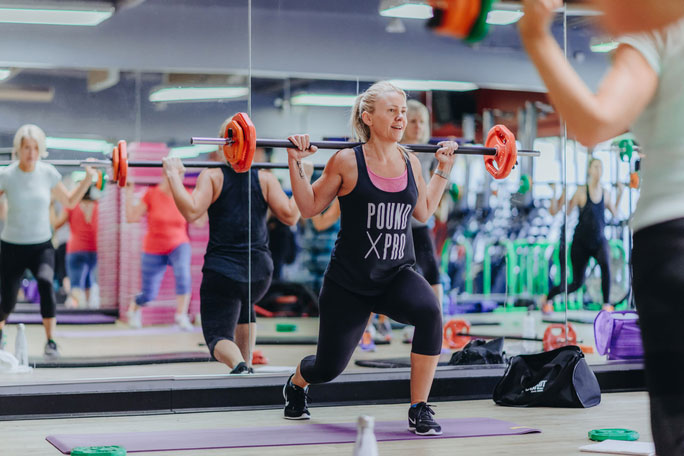 Total Body Blast
Your whole body wants to be stronger and this includes your heart. Join your Fitness Family for a workout that will include all muscles with cardio included. Lower body, Upper Body, Core and more! Your certified trainer leads you with weights, gliders, bender balls, TRX and various equipment and the cardio portion may include treadmills and rowers. All Fitness levels are welcome.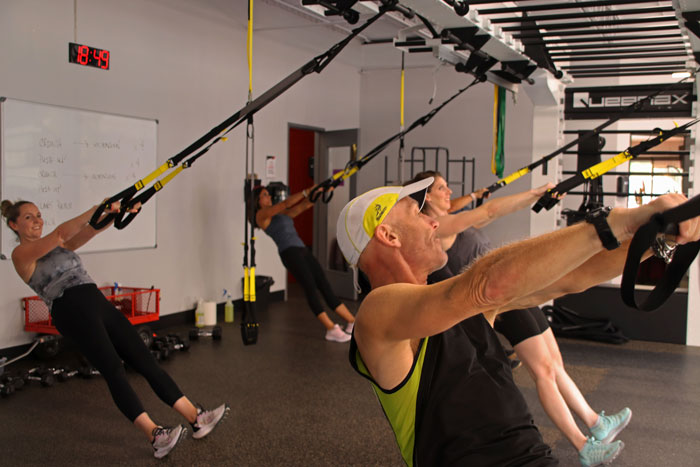 TRX Strength
In this class you can expect suspension training with the TRX to strengthen your body and lean muscle building to support mobility and flexibility. All fitness levels are welcome and modifications will be provided.
Available In Studio.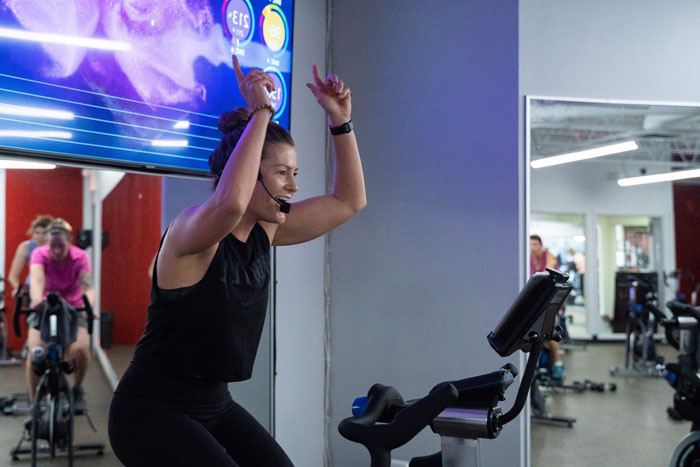 SPIN 30
Let's ride it out! You can join us outdoors on the Keiser bikes for a quick cardio session that will have your endorphins kicking in and a smile on your face. Join your dynamic certified leader for cardio training with hills, valleys, sprints, and more!
Available In Studio, Online and Outdoors.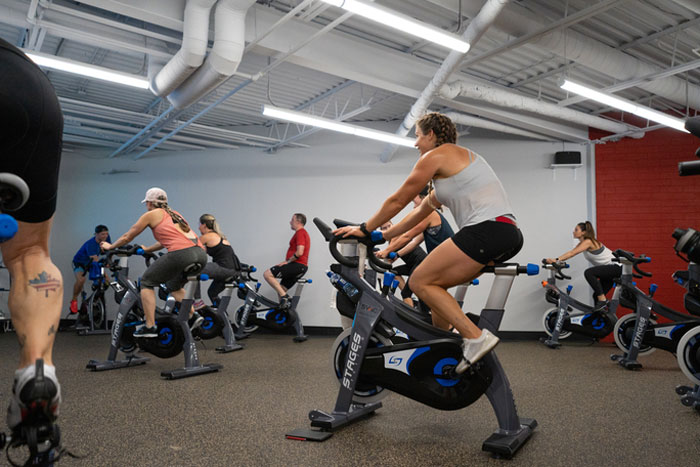 SPIN and barre
Spin and Barre, two great workouts, rolled into one! Let's break it down. Barre is pilates and ballet inspired movement and exercise to the beat. Enjoy low-impact moves that sculpt your muscles with a focus on core and isometric training. In the studio you will use hand weights, resistance bands, bender balls, and more. Spin is cardio focused training on a bike that will have you riding to the beat, with intervals, hills, and more, led safely and effectively by your certified leader.
All fitness levels are welcome. Available In Studio, Online and Outdoors.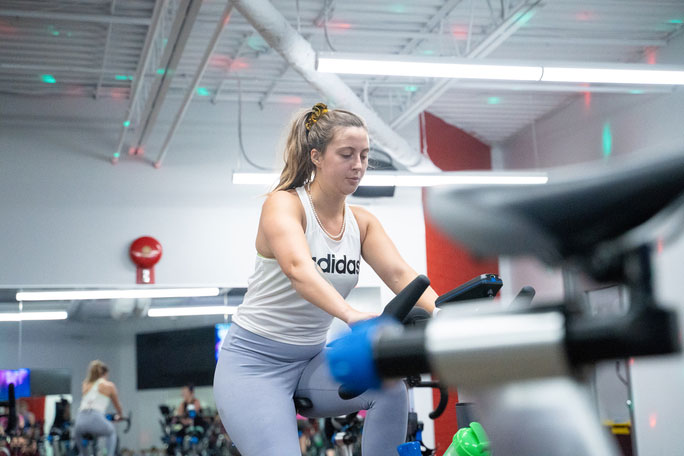 spin and core
Ignite your metabolism and blast fat with this cardio and core focused workout. Our certified trainers will lead you through spin drills and complement that with core strengthening, keeping you balanced, strong, and supported. 
Available In Studio, Online and Outdoors.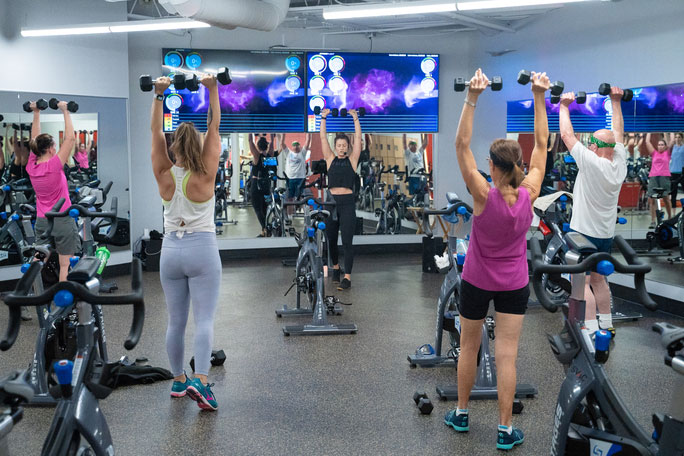 spin and strength
Feeling stronger and leaner has never been more achievable! This class is designed specifically to strengthen muscles, improve cardio, and blast away body fat on and off the bike. Your certified leaders switch up the classes to keep them fun for you and your fitness friends. Suitable for all fitness levels.
Available In Studio, Online and Outdoors.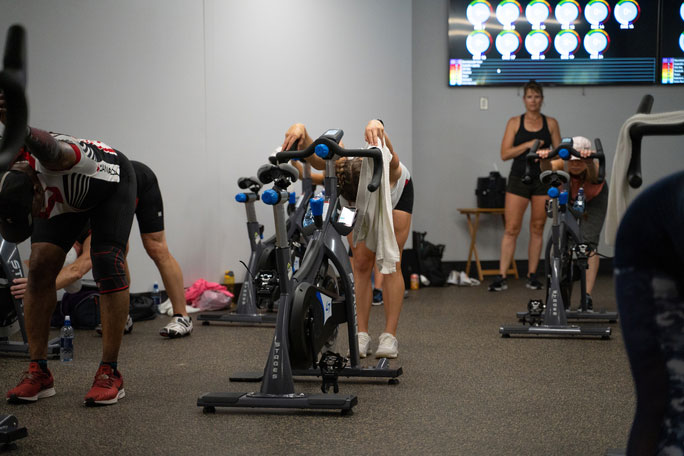 spin and stretch
Raise your heart rate and relieve your muscles with 30-45 minutes spent spinning and the rest of the hour stretching, thanking your muscles for all that they do. 
Available In Studio, Online and Outdoors.
All Fitness Levels Welcome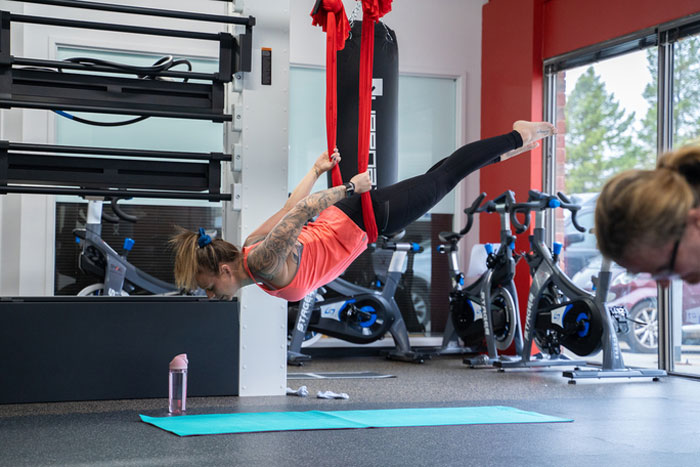 Aerial Yoga
Take your yoga practice off the ground in the QueenAx suspension area. Certified yogi's with Aerial Certification will safely guide you in the Instagram worthy program to stretch, strengthen and relieve your muscles.
Please bring a yoga mat from home – we do not currently loan mats. Availability TBA.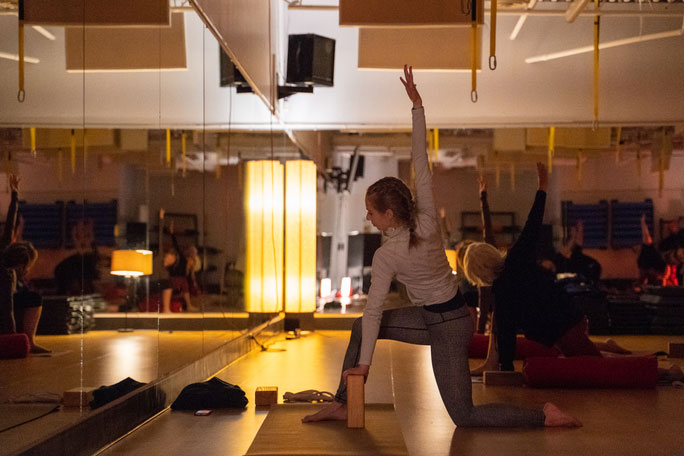 Gentle Yoga
A class to slow down, and recharge. We start with an easy meditation to set our intention for our practice and then move into a slow gentle flow releasing tension, stress and muscle tightness while adding some easy balance postures. Reduce stress and relax while gaining flexibility. Find a deeper quality of breathing. All levels welcome
We will have props, that are available for your usage. SVAC has amazing Yogis to ease you into all yoga programs to help you stretch and strengthen safely, for Mind Body and Soul. Bring your Mat.
Available In Studio and Online.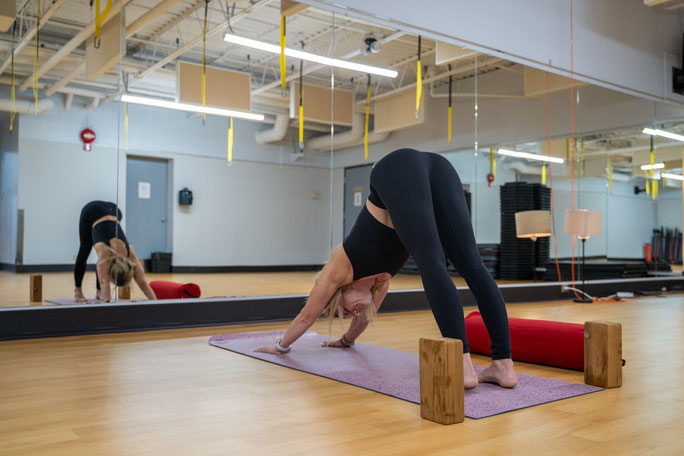 Happy Hips Restorative Yoga
Our expert yogi's will lead your body and mind through a mobility stretch, restoring the way you move to keep you active. This class holds postures for a length of time to ensure the stretch is carried into the muscle. Please bring a yoga mat from home and any props you may have. Dress in layers. Limited access.
Available In Studio and Online.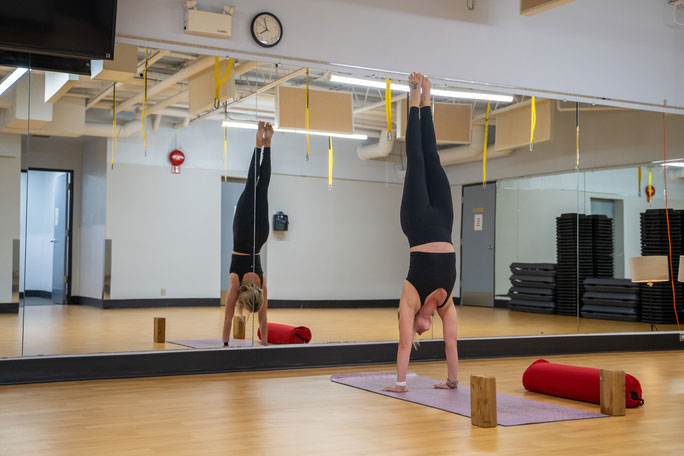 Power Yoga
This class uses dynamic, strong yoga sequences that will get your heart pumping and help you connect with your inner power. This class will challenge you physically, mentally and spiritually. The poses are held for longer and there will often be inversions and/or arm balances included. Leave feeling invigorated, empowered and energized!
Whether you've done yoga once or one thousand times, you'll improve your fitness, increase flexibility, feel more vital and develop a deep-seated sense of calm and serenity. There will be different options so you'll be able to practice at a level that suits you. As with all yoga, the emphasis is not so much on what you do, but on how you do it.
Available In Studio, Online and Outdoors.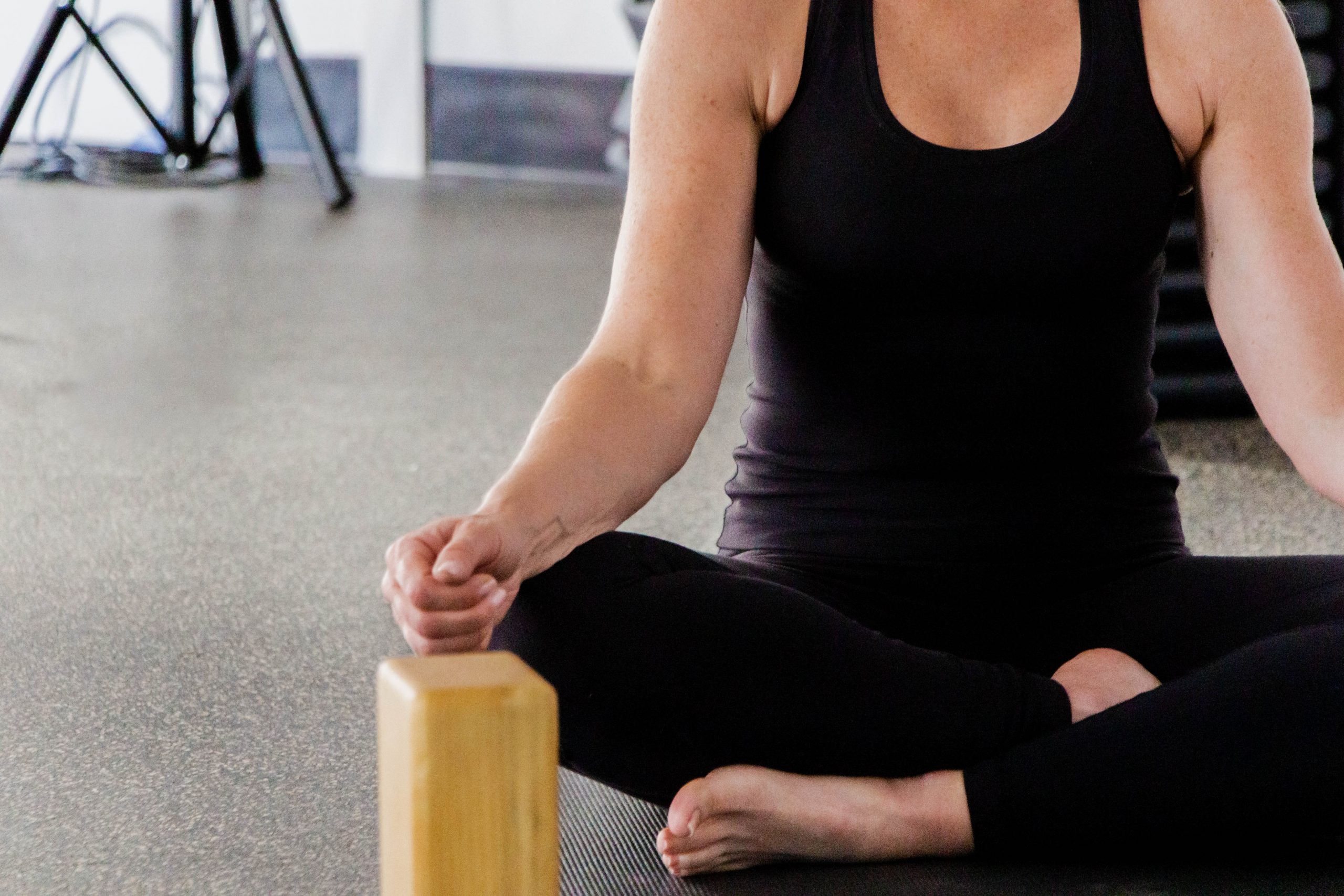 Yoga Flow
Designed to keep you warm, flow with your body through a series of poses that will evoke your strength within. The perfect class to lose yourself in your capabilities. Bring your own mat and any yoga props you may have – we do not loan mats.
Available In Studio and Online.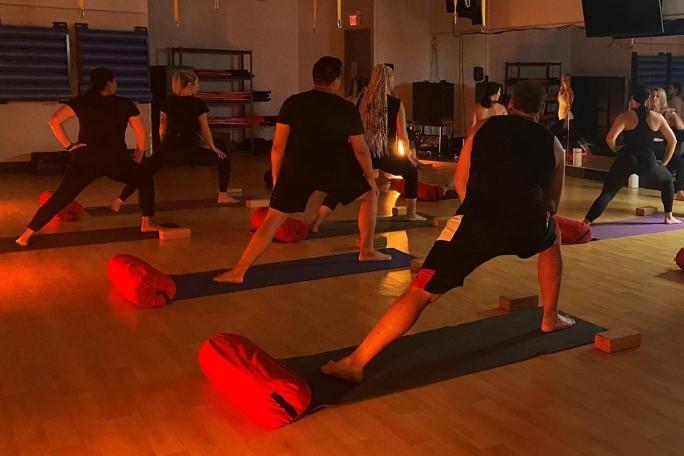 Yoga Reset
During Yoga Reset, we will move intentionally with breath, sweat, reflect and flow We will have a combination of flow, breath work, restorative postures, some guided meditation and some laughs. Yoga Reset will prepare you for the week ahead; leaving feeling lighter and calmer. Ready to take on whatever comes your way. Modifications are offered and props are encouraged. Bring your own mat.
Available In Studio and Online.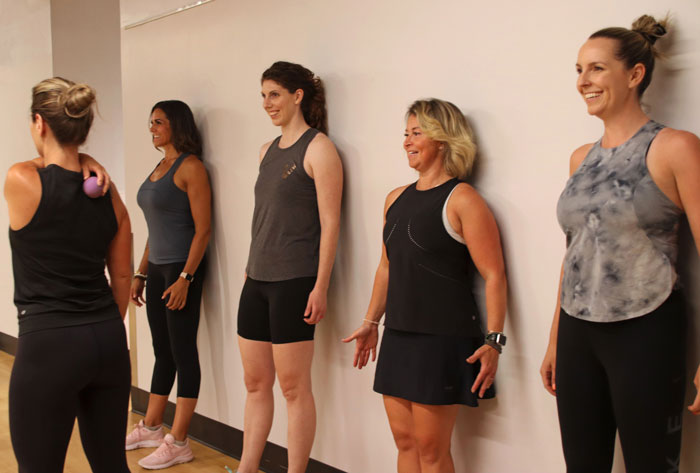 Yoga Tune up Balls
Each class is uniquely custom-tailored by our highly trained Yoga Tune Up® teachers who'll be there to support you with a consistent "Body Tuning." Classes are filled with relevant exercises to target body blind spots that need regular maintenance and attention. Strengthen, maintain, and thrive as you connect with your community and your best self. Fascia release with yoga, what a combination.
Available In Studio.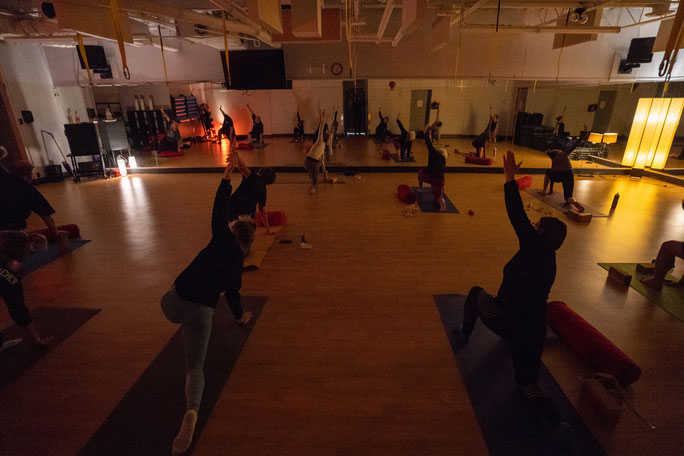 Yoga YinYang
Come experience mind and body balance through a deep stretch and release Yin Yoga, moving into a fluid, heat-building Vinyasa flow for all levels. Bring your own yoga mat.
WHAT SVAC MEMBERS ARE SAYING
The staff is very friendly and helpful. They even remember your name. The instructors are also great. I couldn't be happier with the classes that I have taken. i.e. move it low and seniors' yoga. The Club is very clean and bright. I love the fact that there is a lovely lounge to sit in to enjoy a complimentary tea or a coffee with a friend after your workout. I would recommend this Club to anyone thinking of joining a gym.
"The only gym I've ever been to that provides a sense of community is SVAC. The support I've received from staff and fellow members over the last two years has been a huge part of my fitness journey."
"Pleasant staff who are so helpful. Love the variety of classes and you have marvelous instructors. Club has a really good energy and vibe."