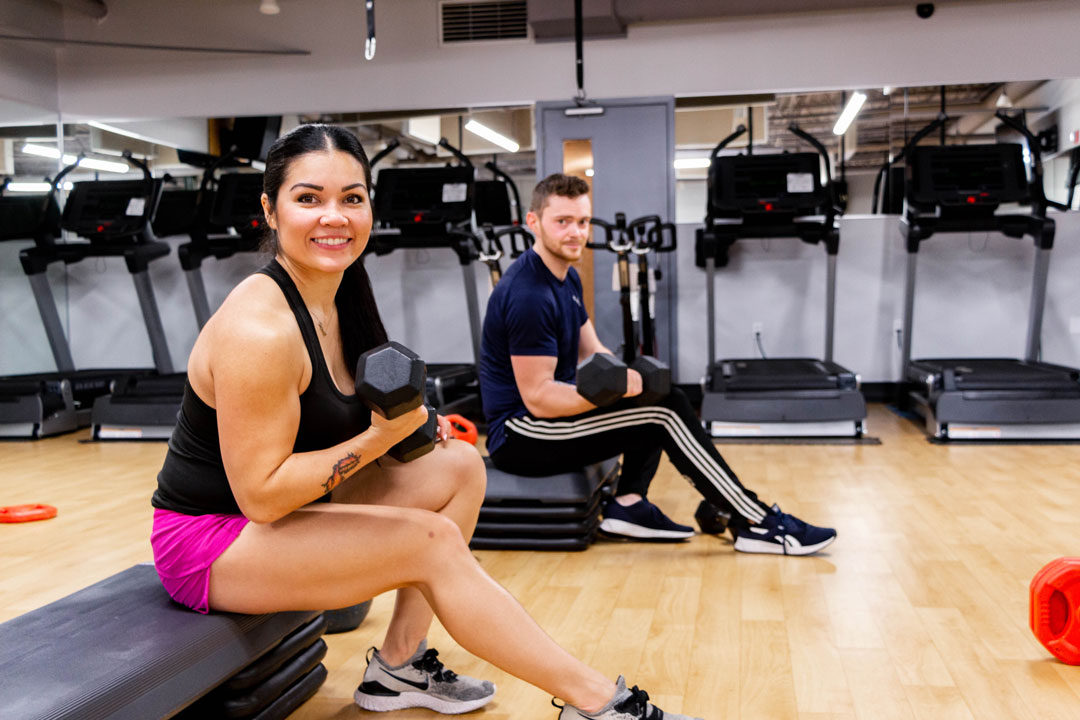 It's 'Bring A Friend' month here at SVAC! For the month of October, invite a friend to join you for your next workout at SVAC. They'll receive a free 1 week pass and access to our state-of-the-art gym floor and group fitness classes.
And we didn't forget about you! As a current SVAC member, you'll receive a $25 credit for every friend who signs up for a monthly membership, no limit in credits. Credits can be used towards membership or SVAC swag.
We can't wait to see you and your friends at SVAC! Encourage each other, stay accountable, and have a blast. 
WHAT ARE THE BENEFITS OF WORKING OUT WITH A PARTNER?
Motivation & Friendly Competition
One of our favourite reasons to workout with a friend is the motivation! Your friends can encourage and cheer you on as you complete that last rep or reach a new personal best. We love seeing our members push each other to reach their goals, and a little friendly competition never hurts!
Consistency & Accountability
Keep each other accountable! Commitment is key to starting your fitness journey. Members are more likely to keep their workout plans when a friend is involved. Don't let your friend down, get to the gym and have a killer workout. You'll be happy you did!
Variety
Maybe your workout partner is a spin class addict and you've never tried a spin class before. You are less likely to shy away from new classes when you have a friend to go along with you. A workout buddy is great to push you out of your comfort zone and try new things. Check out our class schedule to discover the variety of classes that SVAC offers.
Spotting Buddies
Lifting heavy at the gym without a spotter can lead to injuries. When you come to SVAC with a friend, you have a built-in spotting buddy to help you out! Feel safer and confident to lift heavy and reach new personal bests with a friend by your side.
And of course, FUN!
It's important to remember that the gym should be fun! It's great seeing members laugh together and have a great time whether it's sweating it out on the gym floor or killing it in a group fitness class. The SVAC community is here to make fitness fun.
Best way to end a fun and rewarding partner workout? Stop by the SVAC member's lounge for a nutritious snack or drink from Just Bite Me Meals and Mode Juice Co. Looking for a boost after your workout? Check out the Herc's Nutrition vending machine by the front desk.
Check out these partner workouts and try them at your next workout at SVAC!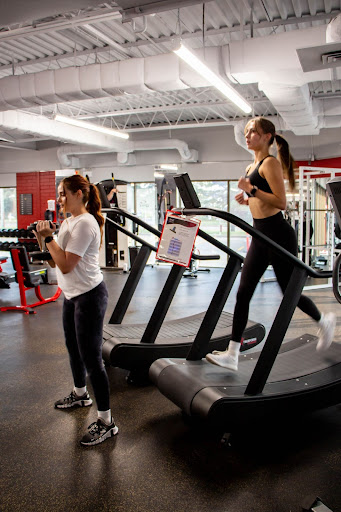 EXERCISE #1 – INTERVAL TRAINING
High Intensity Interval Training (HIIT) sessions with a workout partner are time efficient and not to mention fun!
Pair a sprint workout on our Trueform treadmills with a lower body movement, such as a Sumo Squat. Trueform treadmills are manual treadmills, otherwise known as self-propelled treadmills, that simulate the same footstep you have outdoors. Pair off with a Sumo Squat and you are exhausting those muscles in a great way!
3 sets or 8 sets: 1 min run and 1 min Sumo Squats. Rest or no rest inbetween! Tailor it to your needs and ability.
Benefits:
High metabolic cost – Burn calories with sprints and heavy weights.
Maximize the use of your lower body cardio and strength.
All fitness levels can do this.
EXERCISE #2 – RESISTED CHEST PRESS
Pushing weight away from your body is functional exercise. By adding in isometric resistance, you get more out of the exercise than you would if you did one more set. This is due to the muscles being in a static hold which fires up the stability of your joints.
Benefits:
Break the plateau – Cross training different types of strength and explosive movements helps your muscles keep building.
Work your core muscles.
Working out with a friend brings laughter, fun and challenge to your gym session and brings you back into the gym day after day.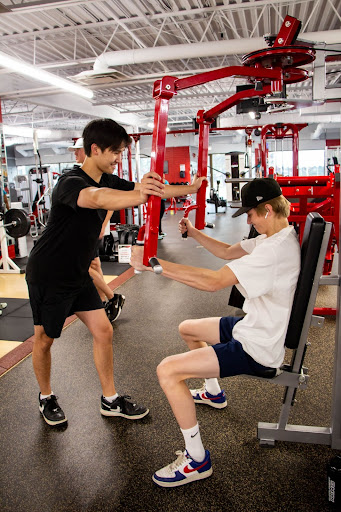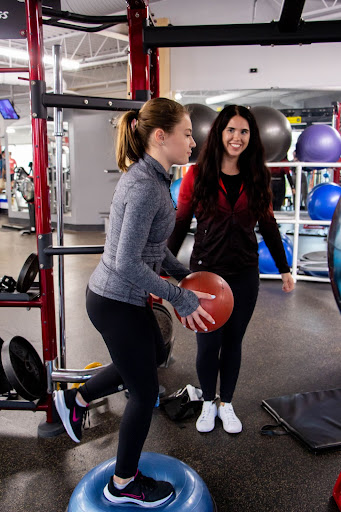 EXERCISE #3 – MEDICINE BALL PARTNER EXERCISES
Medicine balls are great for partner workouts. They are extremely versatile and easy to incorporate into your next gym session. Try out these medicine ball partner exercises at your next visit to SVAC:
Grab a medicine ball to share.
#1: Partner #1 will perform 15 Burpees while Partner #2 uses a medicine ball for lunge taps to ground, shown here with BOSU for an added challenge. Do for 4 rounds of each.
#2: Partner #1 holds the medicine ball at chest or overhead and squats repaeatly. Partner #2 faces them and gets down to the floor on their back and returns to standing. We call this a Get up. Partner #1 then passes the ball to the Partner #2 and they squat repeatedly while the other partner does a "get up". Do 8 to 10 of these. Get up's are done by each partner and then you both rest for 1 min.
Once 1 set is done, decide if you need to get a lighter or heavier ball and repeat 2 more sets.
Benefits:
Encouragement from your partner and lots of laughs!
Build core strength and balance.
Work out your lower body muscles.
EXERCISE #4 – BENCH PRESS WITH A SPOTTER
Bench presses can be intimidating, especially if you come to the gym by yourself. But with a workout buddy, you have a built in spotter. We have Personal Trainers nearby to advise if you have safe and effective form. Just ask the Front Desk if you need help.
Benefits:
Building muscle builds bone density.
Build your chest muscles as this exercise isolates the pectorals.
Enhance your ability for functional movement if you need to push a heavy item off of yourself!