Sweat Now, Shine Later: The Benefits of Personal Training at SVAC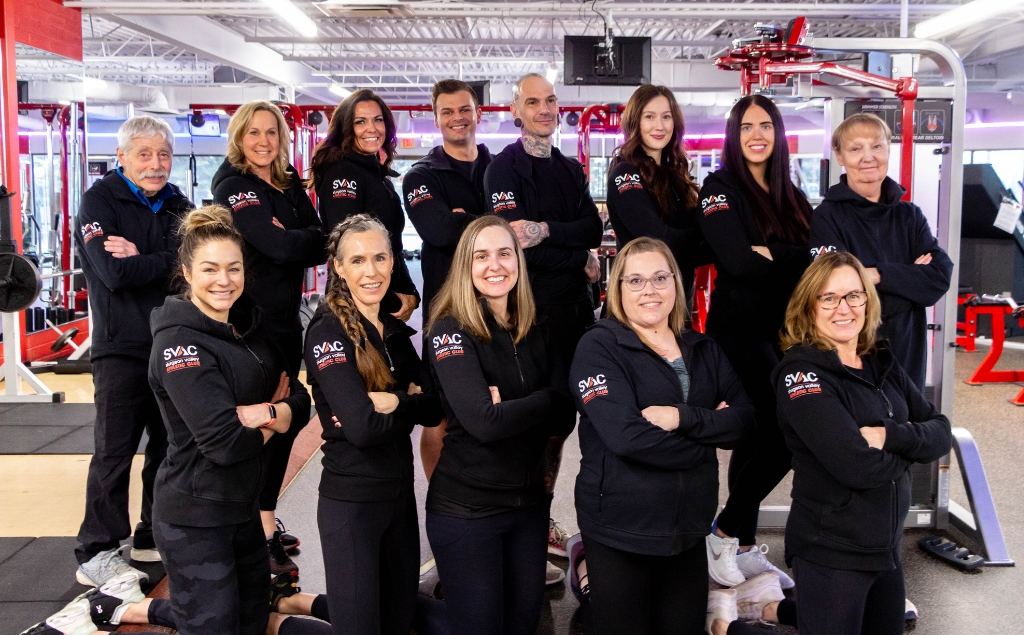 Summer is fast approaching, making it the perfect time to book personal training sessions with an SVAC certified Personal Trainer and start crushing your summer fitness goals. For the entire month of May, take advantage of our exclusive BOGO deal on personal training. Following your free consultation, when you book one personal training session, you get the second session free!
REASONS TO WORK WITH A PERSONAL TRAINER
1. Set Long Term Realistic Goals
Everyone has different goals when it comes to their fitness journey and it can be easy to feel discouraged when you aren't seeing results right away. A personal trainer can help you set achievable goals and keep you on the right track to reach those goals! If you want results, having a personal trainer is a sure fire way to do this.
A personal trainer is also helpful in reaching specific fitness goals. Whether that's running the next Banff Marathon or doing your first pull up, with the help of a personal trainer, you can create a targeted plan to make those goals a reality.
2. Feel Supported
Here at SVAC, we strive to create a supportive and encouraging fitness environment. Personal training is no exception to that. A personal trainer is beneficial to both your physical and mental health, they support you through any barriers or struggles you are experiencing.
Kind Words From Our Members
"We have belonged to many clubs over the years, but this club is the most client friendly professional club we have ever been a part of. We drive from Spruce Grove to attend personal training and classes that are taught by some of the best instructors. We love the friendly atmosphere and fun events!!"
– Lianne C.
Kind Words From Our Members
"I joined SVAC about 7 months ago when I was looking to significantly increase my fitness to reach a personal goal. I met with Coreen to discuss my training goals and she built me a personalized program that was both challenging and achievable. I needed a full fitness education and Coreen was able to teach me how to be comfortable on the gym floor and also how to push myself to keep getting stronger each week.
Coreen keeps me accountable but is also extremely committed to my progress. Her in depth knowledge has kept me injury free and fully motivated to keep moving towards my goals. I feel very supported and listened to when we discuss my progress and appreciate Coreen's ability to amend and adjust based on how my body is feeling. I regularly attend Coreen's group classes as well as private sessions and each and every session is fun, beneficial and very rewarding!"
– Miranda M.
3. Accountability
Consistency can be the biggest hurdle when it comes to your fitness journey. By scheduling personal training sessions, you become accountable and committed to your fitness routine.
4. Gain Insight
A personal trainer is a great way to educate yourself on all aspects of your health and fitness. They provide you with insight on how your nutrition and lifestyle can affect your fitness journey as well as proper exercise technique/form and personalized answers to any of your fitness questions. If you are a new 'gym-goer', working with a personal trainer is a great way to get familiar with the gym equipment and be more confident in a gym environment. An SVAC personal trainer will teach you about risk versus reward exercises to avoid overtraining or injury.
5. Maintaining Your Fitness
Personal training allows you to stay consistent and maintain an active lifestyle. A personal trainer will help add variety into your fitness regime.
THE CONSULTATION
Before your personal training session at SVAC, you'll receive a free one on one consultation with your personal trainer. The consultation will cover your goals, fitness level, experience, timeline, strengths and weaknesses. The consultation allows our trainers to have a better understanding of where you are at now in your fitness journey, and where you would like to get to. The personal trainer will provide you with information on all available services that you can choose to incorporate into your program, such as body scans, fitness assessments, program development, nutritional services, etc. From there, they are able to create a personalized and effective plan to help you start crushing those goals!
WHAT TO EXPECT AT YOUR FIRST SESSION?
Personal training sessions are different for everyone. Our knowledgeable and certified trainers create individualized programs for each client, making each session specific to you and your goals! You are guaranteed to receive certified and professional expertise at every session.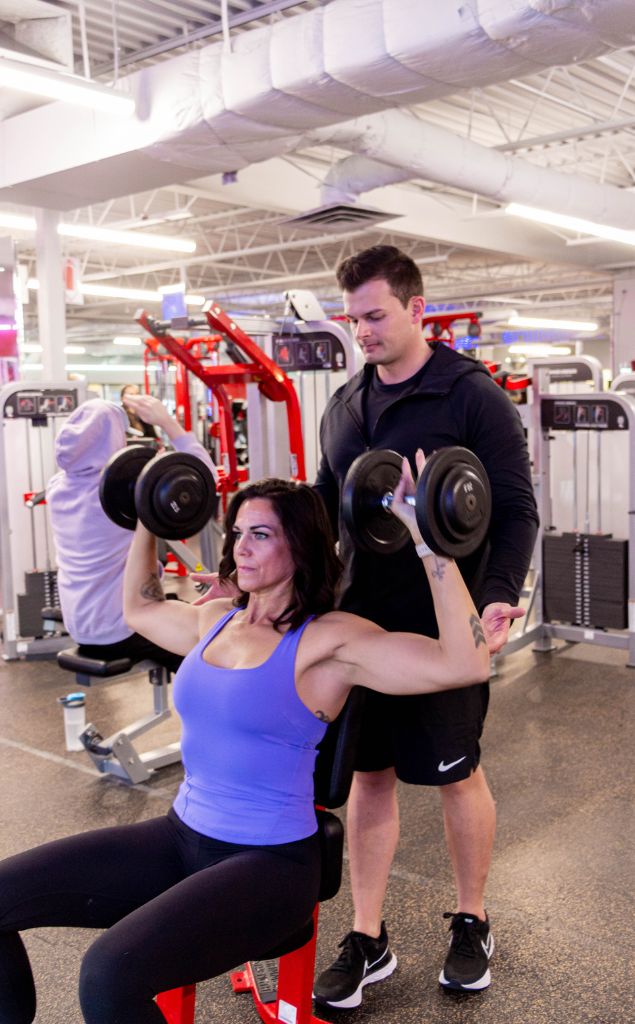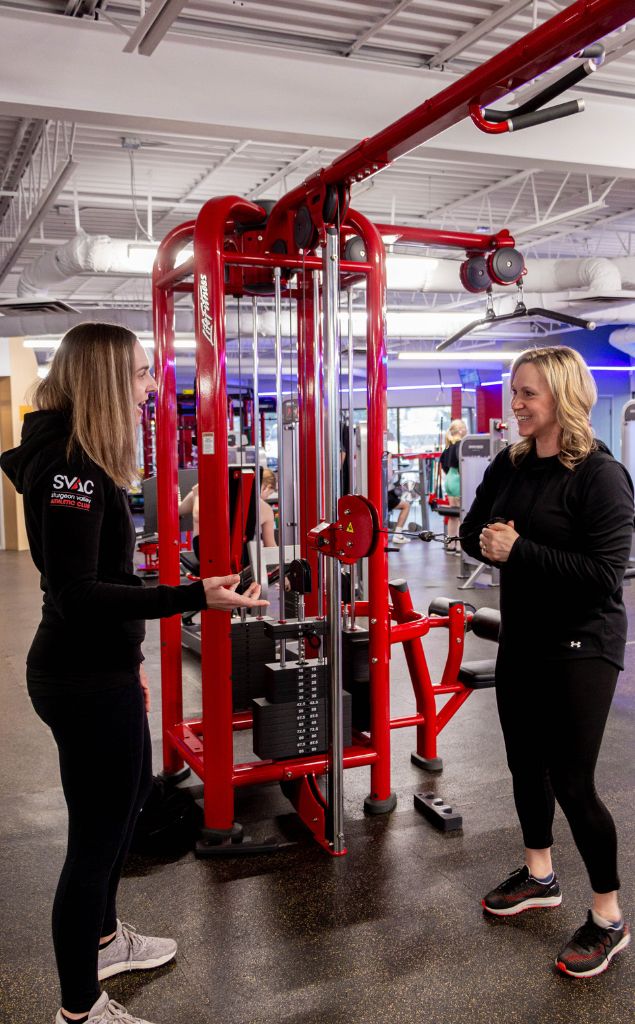 BENEFITS OF WORKING WITH A PERSONAL TRAINER
Improved Form
Maximized Results
Consistency & Customization
Exercise Variety
Nutritional Advice
Improved Mental Health
PERSONAL TRAINING AT SVAC GIVES YOU ACCESS TO
Our state of the art gym equipment
Various fitness studios
Club amenities
Community and club events
Fitness classes to augment your training
On-site vendors and products
COMBINE YOUR PERSONAL TRAINING WITH FITNESS TECHNOLOGY
Measure, track and improve your fitness journey by pairing personal training with our in-house fitness technology. Our fitness technology allows you to better understand your body with stats that you can track. With body scans and fitness assessments, our trainers are able to track your progress on a deeper, more detailed level.
FIND THE RIGHT TRAINER FOR YOU
It's important when you are starting your personal training journey that you are matched with a trainer that will best serve you and your goals. After talking with our team or taking our personal training quiz, you will be matched with a personal trainer that best suits your needs, ability, fitness level and availability.
Get matched with a personal trainer that's right for you!