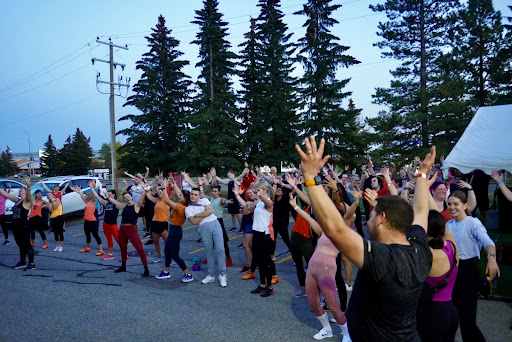 Don't miss out on all things SVAC this month! We have a full month ahead of us and we are excited for all the fitness fun it will bring. Catch up on everything going on at SVAC this month.
BRING A FRIEND
'Bring A Friend' month is BACK! For the month of October, bring a friend to join you for your next workout and they'll receive a FREE 1 week SVAC pass and access to our state of the art gym floor and group fitness classes.
We didn't forget about you! As a current SVAC member, you will receive a $25 credit for every friend who signs up for a monthly membership, no limit in credits. Your credits can be used towards your membership or SVAC swag! SVAC swag includes hats, light-up toques, water bottles, belt bags, buffs and much more.
Check out the class calendar to find a group fitness class for you and your friend to try or hit the gym floor and check out our newly added Olympic Weight Lifting equipment.
Encourage each other, stay accountable, and have a blast. 
SWEAT CRAWL
We had SO much fun at Sweat Crawl's return last month! Member's and non members got to experience 6 different group fitness class styles. Each mini class was 12 mins and we finished the night off with a choreographed dance taught by Fit Pro Lukas Lock. Thank you to everyone who came out to support SVAC. It was great to see so many members as well as new faces.
PILATES RENOVATIONS
The SVAC pilates studio got a little refresh this month! We've added new flooring, new paint and new window coverings. Book a pilates class today and check out the new and approved studio. 
Build your mind, body and spirit connection at SVAC.
RUN CLUB
Are you looking to get into running this fall? SVAC's run club is great place to start! Lead by Fit Pro Warren Footz, this is a fun and inclusive running group for all fitness levels. Explore the trails and curbs of St. Albert. 
Join Run Club on Tuesdays at 6:30pm and Sundays at 8:30am.
ZUMBA FOR BREAST CANCER
Earlier this month we hosted a 90 minute Zumba class for Breast Cancer Awareness lead by Jasmine, Penny and Michelle. This amazing event raised $665.00 with all proceeds going to CIBC Run for the Cure for Breast Cancer Research. Way to go team SVAC!
HALLOWEEN AT SVAC
SVAC is launching Halloweek from October 25 – October 31!
Dress up in your best costume for your workout or fitness class and be entered in our Halloween Giveaway for a Growler Prize Pack from Endeavour Brewing and Coffee Roasters! Dress up with a friend and you both receive an extra entry in the giveaway! We can't wait to see all your funny, scary, goofy costumes!
Want to stay up to date on all things SVAC? Sign up for our monthly newsletter!