Elevate Your Summer Fitness with our Dynamic Gym Classes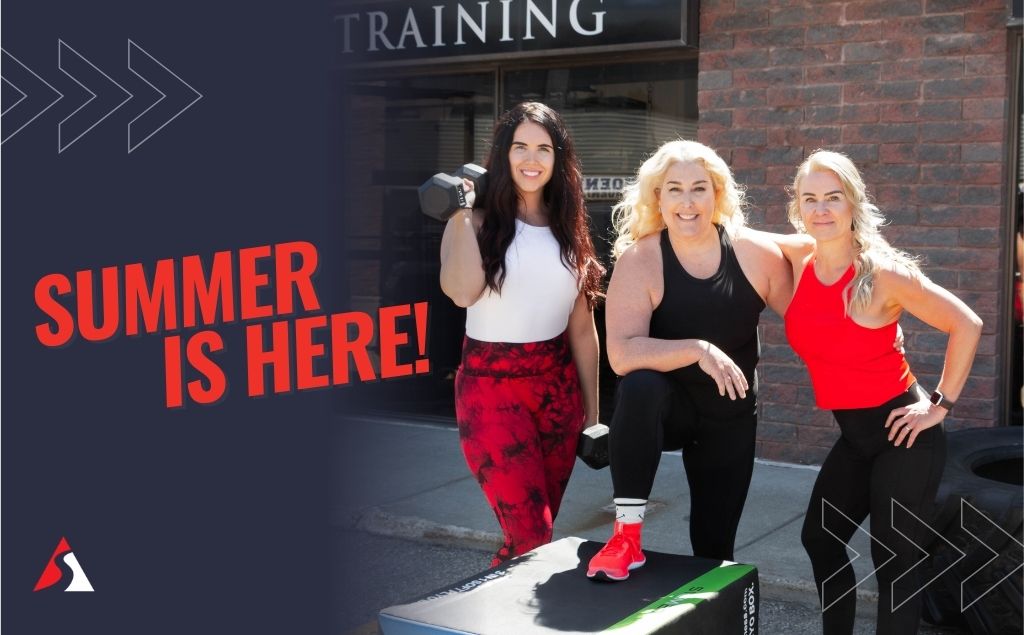 Stay on track this summer with our fun, dynamic gym classes and events. Don't let one summer vacation derail your progress! Keep pushing and striving towards your goals. As summer ramps up it can be easy to lose sight and focus. Our SVAC team is here to support and encourage you all the way through your fitness milestones and finish lines.
Join SVAC for a fun fit summer. With community events, new gym classes, and motivating fitness professionals, the SVAC team is here to make this season one to remember.
STAY MOTIVATED THIS SUMMER WITH OUR GYM CLASSES
Maintaining a healthy lifestyle during summer can be both fun and rewarding. Here are our tips to stay motivated and consistent in the gym this summer:
Bring a friend: a workout buddy is a great way to stay accountable
Try new gym classes: SVAC has a wide variety of gym classes offered every week, switch up your usual routine with a new class
Set achievable goals: Summer is a busy time for everyone, so set goals that are attainable and that still allow you to enjoy your summer!
Work with a personal trainer: An SVAC personal trainer is a great way to stay on track and crush those fitness goals.
Plan your workouts: Keep your gym bag close by and schedule your workouts in advance to ensure they fit into your routine.
Reward yourself: Treat yourself for hitting those fitness milestones. We love celebrating our members' achievements.
Stay hydrated: Proper hydration is crucial during these warmer months. Set yourself up for success by staying hydrated before, during and after your workouts. Check out our selection of Mode Juice Co. juices and smoothies in the SVAC lounge.
SUMMER FUN AT SVAC
SVAC is the place to be this summer for your fitness needs! We have everything you need to stay on top of your fitness goals, while still making the most of your summer. The SVAC community is all about encouraging and supporting you along your fitness journey, and summer time is no exception to that! Check out all the amazing events, gym classes and amenities SVAC has to offer this summer.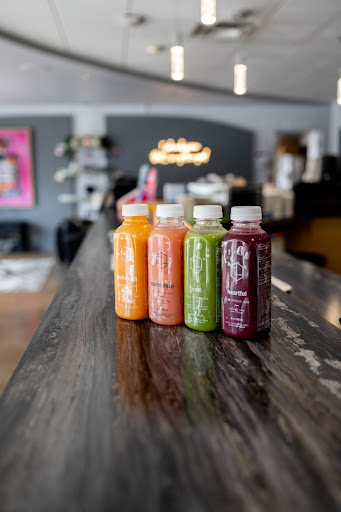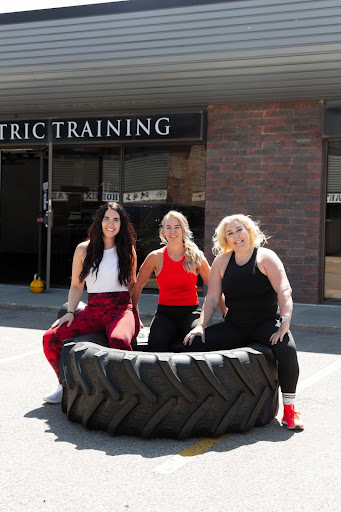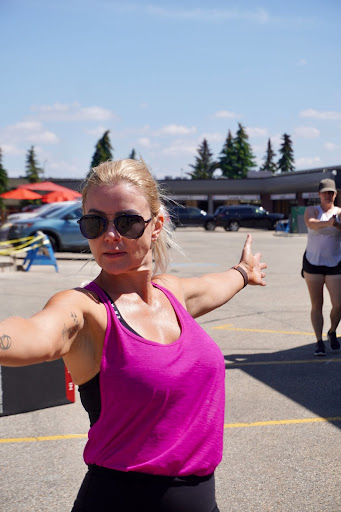 OUR NEW SUMMER EVENT: SVAC GAMES
SVAC's first annual SVAC Games competition is fast approaching. The official SVAC Games event will be hosted at SVAC (205A Carnegie Drive, St. Albert) on Saturday, July 29th, 2023. Step out of your comfort zone with this challenging and rewarding competition. Compete with a partner in 3 disciplines: Row & Row, Flip It & Toss It and Trophy Test. Train and improve on your skills leading up to the event in our SVAC Games Training Class.
Class Time:
Tuesdays at 7:00pm – 8:00pm with Shareen
Saturdays at 1:15pm – 2:15pm with Clare
Sundays at 11:15am – 12:15pm with Jordi
Get all the event details.
GET SWEATY AT OUTDOOR BOOTCAMP
Take your fitness to the next level with a full body bootcamp with Fit Pro Conrad. This full body favourite is also a part of our Field Trip Program, taking your workout throughout St. Albert and Edmonton. Get outside and get sweaty with high intensity fitness class.
We recommend checking your email one hour before class as we send updates regarding potential cancellations due to inclement weather. Bring water, sunscreen, and dress for the outdoors. Start your morning off right with some fresh air and a rewarding workout.
Class Time:
Tuesdays at 6:00am – 7:00am with Conrad
GOLF CONDITIONING WITH FIT PRO JUAN
The sun is shining and you know what that means… golf season is here! Work on your golf game off the course with our latest gym class addition, Golf Conditioning with Fit Pro Juan. This class combines golf power and strength conditioning with functional fitness. What can you expect from this class? Look to receive a perfect combination of HIIT, functional training, core, strength and mobility. This class creates a great foundation to improve and unlock your abilities.
It's time to outdrive everyone in your fourball. Sign up for a class and start swinging faster and stronger by your next tee time.
Class Time:
Thursdays at 4:30pm-5:30pm with Juan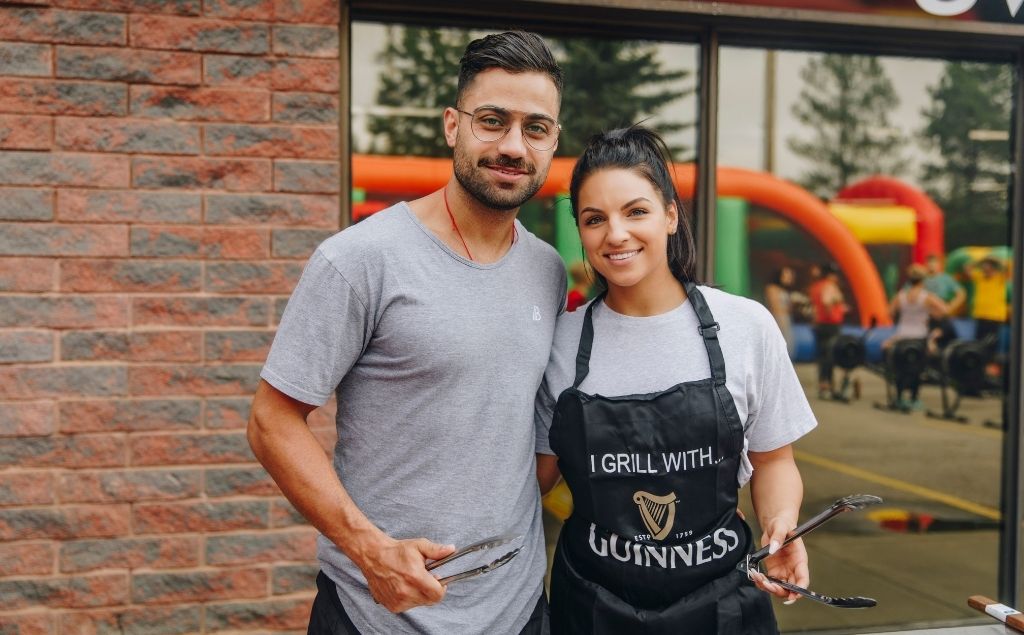 EXPLORE ST. ALBERT WITH RUN CLUB
Lace up your shoes and explore the scenic trails, curbs, and sidewalks of St. Albert with our all-inclusive running group. This welcoming group will motivate you to get outside and break a sweat this summer. Fit Pro Dan will lead you through different trails and paths throughout the city for a rewarding workout.
Here are just a few reasons we think you should join us on our next run:
Explore your adventurous side: Try out new paths and uncover hidden gems throughout St. Albert
Sense of community: Join a supportive group of like-minded individuals, here to cheer you on every step of the way!
Expert guidance: Fit Pro Dan is here to guide you through different routes and terrain to make the most of your run.
Motivation: Surround yourself with fellow runners who will inspire and encourage you.
Fitness fun: Get sweaty and enjoy the thrill of running in a supportive, all-inclusive environment.
Get ready to push your limits and experience the thrill of fitness in the heart of St. Albert.
Class Time:
Sundays at 8:30am – 9:30am with Dan
Tuesdays at 5:30pm – 6:30pm with Dan
OUTDOOR WALK WITH FIT PRO KATHY
Take in the outdoors in this feel good walking group. Meet Kathy and your friends at Kingswood park for a stroll in the scenery, and enjoy some fresh air and great conversation. Incorporating walking into your daily routine has numerous benefits for both your physical and mental well-being including:
Improved cardiovascular health and circulation
Improved mood
Increased energy levels
Better sleep
Joint healthy and flexibility
Get your steps in and sign up for a class today. Check your email before class to confirm. Don't forget your sunscreen and bug spray!
Class Time:
Thursdays at 11:30am – 12:30pm with Kathy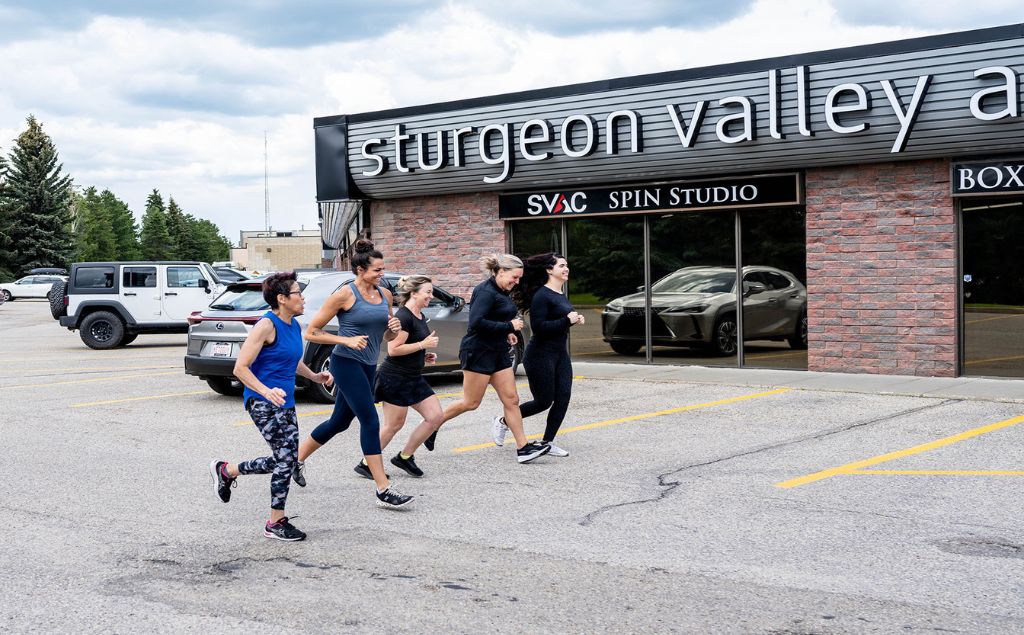 JOIN OUR COMMUNITY BBQ
Fire up the grills! SVAC BBQs are back this summer. Come down to SVAC on Saturday, July 29th for some delicious BBQ favourites, great company and the best summer vibes. Don't miss out on the sizzling fun!
REFRESHING & NUTRITIOUS TREATS
We've got the goods! Delicious and nutritious snacks are here at SVAC to help fuel your workout.
Mode Juice Co: Stay cool this summer with a hydrating and delicious cold pressed juice from Mode in the SVAC lounge.
Just Bite Me Meals: Grab a healthy and delicious meal or snack in our lounge after your next workout.
Herc's Nutrition: Check out our Herc's vending machine for an extensive selection of health supplements to fuel your workout and help you recover faster.
Member Appreciation Nights: Stop by Friday nights for our Member Appreciation Nights. Start your weekends off right with a night of good drinks and good people.
JOIN AN SVAC GYM CLASS
Get ready to have a blast and stay fit with SVAC this summer! We've got a lineup of community events, rewarding gym classes, and a team of motivating fitness professionals ready to make this season an unforgettable one. Join us as we create amazing memories and transform our bodies. Together, let's make this summer a fit-tastic journey to remember!